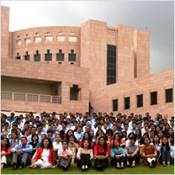 Ask students of the Indian School of Business, who have gone through the 'Make as Much as You Can,' an out-of-the-class entrepreneurship module, and they will vouch that Rs 500 is enough.
Deviating from the chalk and board lecture, the school gave Rs 22,500 - Rs 500 to each of the 45 participating teams - and a week to start a venture. The rider: Money should be used only for legal activities and no additional money can be added to that. However, the returns could be reinvested.
The result? At the end of the week, students had a turnover of Rs 2.45 lakh, ten times the seed capital, and a net profit of Rs 95,000, with 50 per cent of it going back to the school.

In the process, they revived their contacts, sourced raw materials, applied the usual business metrics and more.
For instance, Krishna Prashanth with his friends -Vinay Indresh, Nikethana Thulasidharan and Sukesh Sogani - formed 'Candid Creatives' to deliver customised t-shirts at the doorsteps.
"The journey from Rs 500 to a total sales of Rs 46,000 and with a profit of 19,000 in a week was short but exhilarating," said Prashanth adding the plan was viable to be scaled up for taking the retail mall to the doorsteps of customers.
Another student, a professional swimmer, started swimming classes with her team while a team, which had a yoga enthusiast, offered yoga classes. Cuisine classes, personalised greeting cards, healthcare products, singing telegrams and more figured in the list of businesses.
ISB senior director - PGP programmes, Subramoniya Sarma, said the 'Make as Much as You Can' exercise had proved that money is not necessarily an important ingredient for starting a business. "Concept and business fundamentals define the success of a project," he said.
Though the students came up with a host of ideas, only a few could materialise. The exercise also brought to the fore what networking can do to businesses. It also helped students realise the importance of speed to market.
According to Sarma, the programme drove home the point that in a given environment, competitors can think alike or ahead of others and that a business, big or small, needs the same kind of attention to make it grow.
The students are required to make a presentation on the factors that helped them take the ideas forward or forced to them to change it, the strategies used and the outcomes.
"We learned that market environment changes quickly due to unexpected events," said Sukesh Sogani, a student. The learning of the exercise has been documented to be used as inputs for entrepreneurial planning module of the ISB, Sarma said.