The India-born global management guru not only helped companies but also MBA students and faculty to think laterally, write Archana M Prasanna and Chitra Unnithan.
Seventeen years ago, the 1993 batch of MBA students at the University of Michigan had concern written all over their faces. Their class was running the risk of becoming the first one to graduate without any courses by Indian management guru Coimbatore Krishnarao (CK) Prahalad.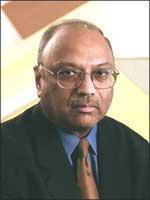 "He (Prahalad) did not let that happen and, in the Spring of 1993, focused on being in Ann Arbor for seven weeks. He agreed to teach two MBA courses on strategy. The response was overwhelming and multiple sections were opened up with CK teaching from morning to evening. I registered for one course which was excellent and I decided I must somehow attend the other course too.
"CK said it might not be possible since every section was filled to capacity. I persisted and attended the classes even though I had to stand. Finally after a couple of sessions, CK relented and I was able to enroll in the second course as well. Thus, my friendship with CK was born," recalls Samir Bagri. The persistence paid-off for Bagri who is now founder of Bagri Global.
Similarly, in 2004 during Praveen Suthrum's first month at the University of Michigan, he and a friend casually walked up to Prahalad's office to get him to speak to the 'Emerging Markets Club'. "We thought we'd find a secretary but there was none. We were too nervous to just walk in - heck, he was the most influential figure on campus. After a minute of debate, we simply walked in and introduced ourselves and asked him to speak to our club.
"CK responded saying he was sure the club members would turn up if he came to speak but urged us to do something more action-oriented - write business cases for his book. Back in class, my fellow students laughed skeptically when I told them that we would write cases that would be published as a book by CK Prahalad.
"At the end of my MBA, I remember sitting in the student lounge and leafing through 'The Fortune at the Bottom of the Pyramid' and smiling; it was the best graduation gift ever. CK made that happen," recalls Suthrum who today is the founder and president of NextServices - a healthcare management company with 120 people in Ann Arbor, Michigan and Mumbai, India.
Bagri and Suthrum are not alone when singing paens to Prahalad who passed away on April 16 this year. Hundreds of students whom Prahalad tutored and even those he didn't, besides his colleagues at Michigan university and admirers from other universities assert that his contribution to management strategy across the globe is unparalled.
"B-schools across the world use his work extensively in classrooms. His book - The Fortune at the Bottom of the Pyramid - is for Indian companies. The whole idea core competence was created by him. His landmark strategy courses would always be a part of the B-school curriculum," notes Bala Balachander, founder dean Great Lakes Management Institute.
Bhavin Mehta and Rhitik Karande, both students of Jamnalal Bajaj Institute of Management Studies, believe that Prahalad's managerial philosophies have shown them "the right way to redefine the thinking that is required for the future". Prahalad's theories have come up in many discussions at JBIMS. His concept of 'Inclusive Capitalism' has been one which has aroused much interest; be it in the field of marketing, finance, or general management.
Prahalad was also known to have regular interaction with B-school students and faculty around the globle. For instance, during a recent three-day visit to the Goa Institute of Management, Prahalad interacted with the students and faculty.
"He took the time to interact with the students and faculty separately. He spoke to the students about the need for innovation and strongly encouraged the students on the importance of thinking out of the box and how it would help young managers survive the world economic downturn," recounts Peter F X D'Lima, Director of GIM, adding: "Most of his (Prahalad's) theories are taught in the marketing subjects of the GIM curriculum."
"Closely following the philosophies of Prahalad, IILM strives to be creative and innovative in its teaching learning processes," concurs Surabhi Goyal, Associate Professor (Market strategy and Consumer behaviour) at IILM. The institute, says Goya, is also inspired by the knowledge-building methods adopted by Prahalad at Ross Business School "which encourages an academic setting where learning is through discussion and practice rather than power point presentations". His strategic approach to target the bottom of the pyramid continues to be the underlying philosophy of modules taught at IILM namely Strategic management, Market planning strategy, Rural marketing and Entrepreneurial planning and innovation.
P K Gupta, Chancellor of Sharda University adds that at the management school of the university, "very often, we refer to various works on corporate strategy authored by Prahlad - prominent among them are 'The Core Competences of corporations (Harvard Business Review, May-June, 1990), The Future of competition, (with Venkat Ramaswamy), 2004". Besides the studends having completed academic assignments on the "iconic case studies of Prahalad - that is Aravind Eye Hospital and Bank of Madura", as part of our ongoing campus activity, Sharda University will be organising a lecture on the topic 'Management theories of Prahalad and its relevance in Indian context'.
Prahalad's former students point out that the mentoring went beyond B-school education. For instance, when Suthrum was starting his own company in late 2004, he consulted Prahalad over dinner. "If you are calling the company NextServices then it better be doing that. Build for the future regardless of whether you have resources or not now," Prahalad told him. "We did exactly that".
Bagri had a similar experience. "Last year 2009, I decided once again to go down the entrepreneurial path, setting up my own consulting firm in India. Once again, it was time to seek out CK for his advice. I found him speaking at a conference in Delhi. We continued our conversation over breakfast the following week in Kolkata. CK listened to my entrepreneurial ideas, gave me advice and reminded me to just do it!," says Bagri adding with disappointment: "Little did I know that would be the last time I would see CK. He was truly one of a kind."
He gave us moral leadership lessons
Nina Henning
2009 MBA alumnus, Ross School of Business, Michigan University
I am one of the thousands of students (a 2009 MBA alumnus of the Ross School of Business) who had the privilege of learning from Professor CK Prahalad. Six years ago I was living in Kathmandu, Nepal, managing a fair trade herbal products company, when a friend recommended that I read "The Fortune at the Bottom of the Pyramid."
This was my introduction to CK's brilliant mind and his willingness to engage his students in the process of researching and writing the content for his groundbreaking book.  The now widely-accepted concepts introduced in his book struck a chord with me and played a big role in my decision a few years later to pursue my MBA at the University of Michigan's Ross School of Business.
In 2007, I found myself in CK's classroom for the first time and quickly came to realise that his agenda for his students was much broader than teaching us about the "bottom of the pyramid."  He was determined to give us enduring lessons about moral leadership, more compelling than anything I've ever heard in a business ethics course.
I had the good fortune of returning to CK's classroom as his teaching assistant in 2008, and the few minutes of time that I spent with him before each class allowed me to get to know a little bit more about CK than he had time to share in the classroom - about his devotion to his family, his incredibly demanding travel schedule and work ethic, and some of the issues that were near and dear to his heart in the final years of his career and life, including the role of environmental sustainability as a key driver of innovation and his passion for shaping a successful path forward for India's economy.
The highlight of my graduate school career was the opportunity to have CK as my advisor for the development of a case study about the Jaipur Rugs company.
Had the makings of a great teacher
Samir K Barua
Director, Indian Institute of Management, Ahmedabad
C K Prahalad graduated from IIM Ahmedabad in 1966. He was in the first batch of the two-year Post Graduate Programme in Management. He was a gold medallist. After working for six years, he joined IIM-A as a faculty member in 1972.
The institute sponsored Prahalad for DBA at Harvard Business School. He rejoined the institute in 1975 after completing his DBA. He left for the US in 1977. Even as a rookie academic, CK Prahalad displayed the makings of a great teacher. He was brilliant in his presentations and communication - making complex ideas simple in the classroom and challenging the students to think differently from the established view. His work and the ideas he proposed reflect the confluence of the orient and occident.
In the last several years, the gift of his oratory skills would be on display almost every year when he would come back to Ahmedabad and deliver a public lecture at the famous Louis Kahn plaza at IIMA. The plaza would be packed with an appreciative audience on such occasions.
Prahalad left India when the country was going through a phase of narcissism. Multinational companies were being forced out of the country. He passed away in an era when MNCs are flocking back to India. He was a staunch believer that India would have a significant place as a major economy in the world of tomorrow. His interactions with the captains of industry and government of India were based on this firm belief.
I still remember the early winter morning in 1976 when I ran into Prahalad and Gayatri (his wife) taking a morning walk on the campus. He was trying to photograph a kite that was sitting atop a tree, surveying the world beneath. The kite took off and soared up and away as did Prahalad to take his place in the sun.
CK had foresight
M S Krishnan
Professor of Business IT,
Ross School of Business
I first saw CK in 1997 at a public presentation he was delivering in Ann Arbor on the emerging economies, primarily India and China.
Although I was sitting in one of the last rows of a big auditorium at the Michigan Business School with 400 people in it, I still remember his last slide in that presentation. It was a picture of a family of five in India travelling in a two-wheeler with the mother holding a baby in her hand balancing herself in the rear seat.
CK concluded by saying that "You don't need market research and a team of analysts to find out whether there is a big market for affordable cars in these countries." He added, "But you cannot design products for those markets sitting here in Detroit. You need to be there to deeply understand the requirements and need for affordability."
That was 13 years back. The world celebrated the Tata Nano innovation last year. All the major global auto firms now have the small car category as an integral part of their competitive strategy. That is CK for you.
Learnings for ISB
Reuben Abraham
Executive Director,
Indian School of Business
CK Prahalad and Stuart Hart published 'The Fortune at the Bottom of the Pyramid (BOP)', which provided a construct with which one could argue that the opening up of markets to the poor was a good idea, as with mobile phones.
Prahalad made a powerful case for the use of market-based solutions, rather than development aid, as a means to ending poverty. He also argued in favour of technology and innovation to reinvent cost structures, a pre-requisite for doing business at the BOP.
Critics, however, said Prahalad's thesis was too focused on consumption rather than production; was too focused on MNCs rather than SMEs which are the engines of job creation in an economy; and there were definition issues with both poverty and BOP and how to measure them.
In 2006, the ISB set up the Base of the Pyramid Learning Lab with Stuart Hart's group at Cornell University. We later expanded our mandate from being BOP-focused to being more holistic and set up the Centre for Emerging Markets Solutions. I think Prahalad would have approved the idea.