China's journey up the growth curve has been so fast that the ride down could be equally nerve-racking, feels Arjun Lahiri.
Is China a Lehman multiplied? Hugh Hendry thinks so. Mr Hendry is a Scottish hedge fund manager in London who has become something of a celebrity for his unconventional and outspoken opinions.
Mr Hendry is convinced that China is a growing property bubble, and claims the Chinese authorities are pumping money in to unnecessary construction projects to fuel growth.
For the last 30 years, China has maintained a growth rate of around 8 per cent. And the world has never quite seen anything like it. Since the Beijing Olympics in 2008 - a sort of coming-of-age display for the country - the international community has almost come to accept China to be the new superpower of the 21st century.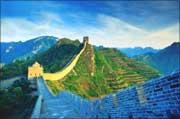 But the last few years have also begun to show the first signs of cooling of the Chinese economy: an inevitable process for an economy beginning to mature.
In a YouTube video, Mr Hendry has filmed himself in remote locations in front of the empty office buildings that he claims are indicators of a growing bubble. Yet this is not the only video evidence of unused construction projects in the country.
An Al Jazeera report from November of last year covers "China's Empty City" in Ordos, Inner Mongolia. The new city in Ordos is a state-sponsored construction project that helps achieve growth targets, but creates little value. The most curious thing about the newly built city is that even though no one lives there and there is no local economy, every apartment complex has been sold out.
Though he may seem like an anomaly, Mr Hendry is not alone. In February, Harvard professor Kenneth Rogoff predicted that a debt-fuelled bubble could cause a regional recession within the next 10 years (Bloomberg, February 24, 2010).
It is estimated that China spent about a third of its 2008-2009 $586-billion stimulus package on construction and public infrastructure projects. James Chanos, the influential fund manager who predicted the fate of Enron, claims we are witnessing "an epic high-rise building boom in China" (Business Insider, April 14, 2010).
He claims that these are New York City high-rises with prices to match, for a population that earns roughly a tenth of the US per capita income. Chanos dismisses the myth of a Chinese migration to cities, and claims that Chinese property has become a market for high-end speculators.
On August 2, in an interview on Bloomberg, Swiss investment analyst Marc Faber warned yet again that the Chinese economy might suffer a hard-landing within the next 12 months. On the eve of announcements of slowing manufacturing output, the author of the "Gloom Boom and Doom Report" expressed scepticism about lending combined with waning impact of the fiscal stimulus initiative.
Yet, unlike Chanos, Faber is not wholly convinced of a crash. As the effects of the stimulus diminish, the Chinese government is likely to step in to ease growth. Additionally, it is plausible that a crash in certain markets may occur at the same time as other areas of the economy continue to expand. Still, like many others, Faber's greatest concern is lending practices.
Apart from low interest rates, news of a slowing economy comes amid sporadic reports of corruption, pyramid schemes, and informal banking over the last two years. One of the difficulties for those on the outside is that the Chinese administration is able to manipulate the "reality" that we see.
There is, of course, another group of dissidents who believe China's problems are beyond economics. Some of these critics have views as extreme as Gordon Chang, whose sensational 2001 book, The Coming Collapse of China, foretold that accession to the WTO would expose the underlying weaknesses of the communist administration and ultimately cripple China. (Chang's book resembles the tone of the Y2K doomsday scenario, though perhaps with a bit more fury.)
Since 2001, China has moved from strength to strength, and maintained its administration's historic reputation for all types of disaster management. Back in 1989, few thought the Communist Party would be able to recover after the events at Tiananmen Square.
Even more recently, the international media seemed to have a lot to say about the protests in Tibet shortly before the 2008 Summer Games. Today it hardly seems like they ever occurred.
The Chinese economy has already showed signs of slowing down with the growth rate falling for the fifth straight month in July. In anticipation of overheating, the administration has already pulled back on lending. Still there are expectations that the government will step in later this year to help growth.
Though it seems likely that China will be able to control this situation, the expectation itself of additional cash injections can be a dangerous thing.
After all, expectations in the country have often gone wrong: China is already home to the world's largest shopping mall in Dongguan, which - apart from a few foreign fast-food chains - has lied 99 per cent empty since it was built in 2005.
Can China prove the sceptics wrong again? Ups and downs are part of the ride for growing economies. After a recession, recovery can come.
But China's journey up the growth curve has been so fast that, many fear, the ride down could be equally nerve-racking. When bubbles burst, they do so with a pop.