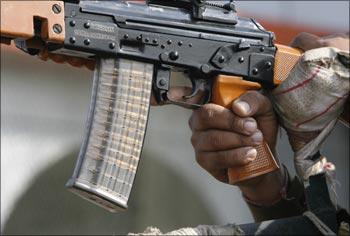 The ministry of home affairs has turned to India's private sector to arm the police forces with weapons needed to respond to terror attacks like 26/11.
On December 21, MHA promulgated a draft Arms and Ammunition Manufacturing Policy, which allows the Department of Industrial Policy & Promotion (Dipp) to issue licence to large private companies that are capable of producing advanced weapons, and invest over Rs 50 crore (Rs 500 million), to manufacture arms and ammunition to be "primarily supplied to the Central Paramilitary Forces, Defence and state governments on tendering basis".
The draft policy also stipulates a foreign direct investment (FDI) cap of 26 per cent on companies applying for licence.
MHA had initially looked at foreign suppliers to replace the outdated weaponry of 1.5 million state policemen and 750,000 jawans of the central police organisations (BSF, CRPF, CISF, etc).
It was envisaged that global suppliers like Singapore Technologies Kinetic (STK) and Israel Military Industries (IMI) would partner the Ordnance Factories Board (OFB) to produce modern rifles and carbines for the military and police. The plan was stymied when STK and IMI were blacklisted by the Ministry of Defence with the arrest of Sudipta Ghosh, former OFB chief, on charges of corruption last May.
MHA was also unable to procure weapons from the defence ministry's suppliers, the two ordnance factories at Ichapore and Kanpur. With an annual production capacity of 100,000 rifles, these factories barely met the annual replacement requirement of 1.7 million soldiers, sailors and airmen.
With foreign and public sector options foreclosed, now the private sector is being invited to pick up the slack. There are 95 private companies with decades-old licences to manufacture arms, but they can only manufacture shotguns of the kind used by bank security guards and for hunting.
For the private sector, this is déjà vu. In 2001, after a Cabinet decision to allow the private sector into defence manufacturing, Dipp (vide Press Note No 4 of 2001) permitted private companies to manufacture defence equipment, including arms and ammunition, subject to an FDI cap of 26 per cent.
Large industrial houses interested in defence manufacture, including Larsen & Toubro (L&T) and Mahindra Defence Systems applied and obtained Letters of Intent (LoIs) for several categories of defence equipment, including small arms (pistols, rifles, machine guns and carbines) and ammunition.
But in 2006-07, when L&T sought a formal manufacturing licence from the government, MHA insisted that no licence be granted for small arms and ammunition.
The reason, as the draft policy obliquely admitted, was MHA's wish "to ensure total non-proliferation" -- North Block apprehended that extremists might siphon off weapons from private production units.
Clearly, that apprehension has been trumped by the urgent need for modern weaponry. MHA still intends to strictly control the grant of licences -- the draft policy stipulates that applications "may be considered by DIPP as per procedure in consultation with MHA".
Manufacturing world-class arms and ammunition will be a challenge for the Indian private sector, involving as it does expensive and closely guarded technologies.
Admitting that a foreign partner would be essential, an industry source said, "Small arms manufacturing is as much an art as an industrial process. We will have to tie up with a foreign partner like, perhaps, Heckler & Koch. An FDI cap of 26 per cent means they will be reluctant to transfer crucial technologies; we may be limited to licensed manufacture."
Image: A soldier from the Central Industrial Security Force, which is in charge of airport security, holds a rifle at the international airport in New Delhi. Photograph: Desmond Boylan/Reuters