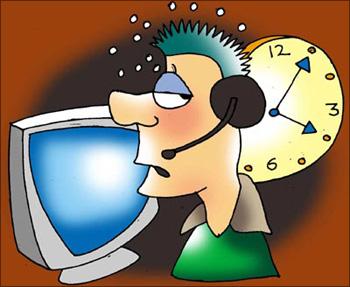 Cut back to a year ago, and every soothsayer said 2009 was going to be difficult.
"Can I expect a high joining salary?" "Will I get an increment?" were some common questions from our readers. "Not likely," we had said, even as the spectre of salary cuts and pink slips loomed large. However, this time around things certainly look positive and one can expect stable times ahead.
Post-recession, employers have learnt a few lessons which they will not unlearn very soon. "Cautious hiring will take place across industries because companies would not like to be overstaffed and would like to keep their middle-line trim," says Sunil Goel, director, GlobalHunt India, an executive search firm.
Most of the companies have raised the performance benchmark. The downturn experience has taught them that it pays to focus on productivity. To sum it up, even as 2010 holds promise, it is not free from threats.
We tell you what could be some of the fastest growing careers in 2010, and how some of the key sectors are expected to perform.
The hotspots
While some sectors will show a positive trend in growth and hiring numbers, some might take a bit more time to stabilise.
Telecom: The numbers here tell the story. "The Indian telecommunications industry is one of the fastest growing and is projected to become the second largest global telecom market by 2010," says Sudhakar Balakrishnan, managing director, Adecco India, a HR solutions company.
Knowledge process: This sector bore the brunt of the slowdown, salaries are expected to recover. Candidates would be required to have subject matter expertise, analytical, logical reasoning and excellent communication skills.
Healthcare: With the focus on well-being, high disposable income of people and the increased incidence of non-communicable diseases, this sector is poised for high growth. However, there could be a demand-supply challenge with healthcare professionals such as nurses expected to come back to the country from the Middle-East.
Infrastructure: Balakrishnan is bullish on this sector as it is likely to attract substantial investment. While the infrastructure output index -- a measure of growth from six key infrastructure industries -- increased 7.1 per cent (y-o-y) in October 2009, the government plans to pump in Rs 14,88,000 crore (Rs 14,880 billion) to upgrade ports, railroads, highways and airports over the next 10 years. The government is also heavily investing in power and energy sectors.
Rural sales and marketing: Vishal Chibber head, Kelly Services, India, a staffing solutions company, says: "As urban markets get saturated, the focus has shifted to rural markets, which have the purchasing power. Any company wanting to capture higher market share and increase revenue need to venture into the rural markets." Sales and marketing skills are in demand.
The flatspots
Financial services: The latter half of last year has been good for this sector, but the growth is still volatile, and there are plenty of finance professionals post Lehman Brothers bankruptcy still looking for jobs.
The downspots
Real estate: The sector has recovered from its lows, but it is not yet steady. Overcapacity and unsold inventory is still a problem.
The changing realities
Hiring patterns: Hiring will be a more scientific and a complex process. "Employers are looking at addressing employability issues right at the outset than having to realise they have round pegs in square holes a few months down the line," says Rajesh A.R., vice-president, TeamLease Services, a staffing company.
As employee expectations have become moderate, there will be a trend towards hiring people with experience. "Hiring will be more internal in nature with stress on employee referral schemes, in-house career boards, promotion and internal transfers," adds Chibber.
Salary growth: A study done by Hewitt Associates, a HR consulting firm, pegged the overall salary increase in India, in 2010, at 9.2 per cent, the highest in the Asia Pacific region. "Many companies had an increment holiday last year. Also, with decent growth expected and inflation pressures, most employers have to look at an increase in 2010," says Shabbir Merchant, chief value creator, Valulead Consulting.
However, it will be wrong to expect growths at pre-recession levels. "Salary growth will barely cover inflation," says E. Balajie, COO, Mafoi, an HR consultancy.
Threats
1. The level of performance expectation is going to be high. Companies will focus more on productivity and will be less tolerantof under performers
2. Salary growth is not going to be like the pre-downturn period, but much more muted and will barely cover inflation, at the best. There will be a bigger shift of balance towards performance-linked variable pay than on fixed raises across the board
3. A more scientific recruitment process will select the right employee at the outset
4. People who change jobs frequently will need to have a justification for it, apart from a higher salary.
5. Focus will be on social networking sites, especially when filling up individual posts with niche skills
Action
1. Learn to be multi-skilled and constantly upgrade relevant technical or soft skills
2. Be active on social networks and update profile regularly
3. Instead of being a hard negotiator, have a good track record and concrete performance data
4. Do not change jobs frequently. Grow organically within the same company
5. Not getting an increment should not be the sole reason to change a job. The focus should be on building your career in a stable organisation.