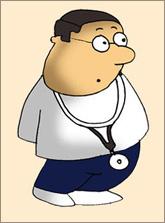 Rajesh Dave, a specialist doctor, has been running a small clinic in Central Mumbai for over a decade. In the next three weeks, Dave and 35 other doctors will together own an advanced medical centre at Tardeo in Mumbai, with four operation theatres, 20 beds and advanced diagnostic machines.
Their venture, Nova Medical Centre, is part of a new model of day-care medical centres in various parts of the country planned by its founder, Mahesh Reddy, and funded by New York-based GTI Ventures, a venture capital company. Nova will soon open 25 day-care surgery centres in leading cities within the next 20 months.
In this emerging trend, doctors are joining hands with venture capitalists, drug firms and medical equipment vendors to set up advanced medical care facilities at low costs.
While the cost of setting up a quality hospital are as high as about Rs 70 lakh (Rs 7 million) per bed and one has to wait for about five years to get returns, the investment required in this model is about Rs 20-25 lakh (Rs 2-2.5 million) per bed and the return on investment is less than three years. This model has attracted the interest of the investor community, especially venture capitalists, and already a few deals are brewing, say investment banking sources.
About 20 surgeons, who will visit the centre every day for performing surgeries, will together invest about Rs 3 crore (Rs 30 million) in the venture, says Girish Rao, managing director and chief executive of Nova.
"This will be the trend in future, as currently most hospitals are not professionally managed and have limitations in growth when doctors evolve as businessmen. Private equity players are not interested in hospital projects which require Rs 100 crore (Rs 1 billion) investment for a 100-bedded hospital and a wait for five years to get returns," said Muralidharan Nair, Partner-Business Advisory Services, Ernst & Young.
Like Nova Medical, Hyderabad-based Continental Group, promoted by two US returned doctors, is planning to set up about 40 Integrated Hospital Centres (IHC) in and around Hyderabad, with focus on dialysis as a specialty. The doctors are in discussions with private equity companies to raise funds for the project, said sources.
Hyderabad-based MedPlus Healthcare Services, which runs a chain of full-service pharmacies, is currently setting up a chain of Integrated Health Centres across the country. These would comprise a family clinic, diagnostic lab and a pharmacy outlet. Its IHCs will have a physician, paediatrician and a gynaecologist. MedPlus, promoted by a US-returned doctor, Madhukar Gangadi, operates 25 such centres in South India.
The centres to be set up by Nova are aiming at 20-25 not-so-complex surgeries in a day, in specialties like orthopedics, ENT, gynaecology and cosmetology. Since complex surgery isn't done, the patient can go home the same day.
"While the chances of hospital inspections are less in this type of hospital environment, the patient is also offered better facilities at comparatively cheaper rates," says Rajesh Dave.
Each centre, costing about Rs 10 crore (Rs 100 million), will have three to four operation theatres, consulting rooms, imaging, pathology laboratory and pharmacies, with all the necessary equipment and staff. Nova has already opened a centre at Koramangala in Bangalore.
"The cost of treatment and surgeries at our centres will be 20 per cent cheaper than that of the corporate and established hospitals," says Girish Rao.
"About 60-70 per cent of surgeries in the US are now held at day-care surgical centres, as health care costs are very high in that country. The concept of day-care surgical centres was started in the US three decades ago and now it is very popular," said Chittranjan Ranawat, chairman of the department of orthopedics at Lenox Hill Hospitals in the US.
In a similar concept, pharmaceutical company Unimark Remedies' marketing arm, Zen Life Sciences, is planning to initiate a chain of Comprehensive Cancer Care centres, with investments from consulting doctors and small hospitals.
Zen plans to offer treatment for radiation, chemotherapy and pharmacies specialising in oncology, all under one roof, by teaming with cancer specialists and small hospitals. Each unit will entail an investment of Rs 5-6 crore (Rs 50-60 million).
"We plan to open 14-16 such facilities across the country within a year," said D P Srivastava, chief executive officer.
While cancer specialists are in plenty for consultation, there are only 40-50 centres in the country that offer comprehensive cancer care, which includes radiation, chemotherapy and surgical solutions. A patient diagnosed with cancer has to go to any of these centres for treatment, he noted.
If prohibitive costs were the reason for doctors desisting from buying costly medical equipment at their clinics, now manufacturers are ready to help them with a 'rented model'. In this, the equipment vendor will install the facility and the doctor will pay back the price on a day-to-day basis, depending on the number of tests done using the machine, sources said.
"This concept is catching up in India, as it helps players like us to sell more units even in rural areas and the cost of the machine can be recovered within a few years. It is like offering a business-linked loan," said Bhuwnesh Agarwal, chairman and managing director of Roche Diagnostics India, the largest diagnostics player in India.