Young people have come to believe in these start-ups and their dream to change the world, writes Bhupesh Bhandari.
Till a year ago, they were just irritants. Today, they are a serious threat. Homegrown mobile phone brands have blown a serious hole in the pockets of their multinational rivals.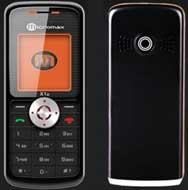 According to the Voice & Data annual telecom survey, three Indian brands - Micromax, Spice and Karbonn - raised their share of the market from 2 per cent in 2008-09 to 11 per cent in 2009-10.
During the same time, Nokia's share fell from 64 per cent to 52.2 per cent. In the fast-moving world of mobile telephony, these numbers could be a little outdated.
In the last few months, newer Indian players like Lava and MVL have joined the party. Lava claims monthly sales in excess of 500,000. So, the Indian share of the pie is bound to have gone up further from 11 per cent.
In China, almost 25 per cent of the mobile handset market is with local brands; so there is still headroom for local Indian brands to grow.
Of course, they began by selling at low prices - 30 to 40 per cent below comparable multinational models. But they don't operate just at the bottom end of the market. They straddle the entire spectrum from basic handsets to smart phones, all for less than Rs 6,000.
Rivals have been forced to drop prices to stop their onslaught. Most Indian brands claim they are already profitable. This shows that multinational handset makers, with their high prices, were making heavy-duty profits, though it must be said that their establishment and running costs would be much higher than those of Indian brands.
India may be the largest market for mobile handsets in the world, but it is only now that it seems to have become a buyer's market.
In spite of their low prices, Indian brands manage to spend a lot on marketing and promotion. Some of them have budgets in excess of Rs 100 crore (Rs 1 billion). How do they manage it? There are three lessons that can be drawn from their success.
One, focus on your brand and the features of your product, and get the distribution network right; products can be bought in China and applications can be purchased off the shelf. Two, develop a bottoms-up approach to the market. And three, well-entrenched multinationals are not invincible; market share can be snatched from them with the right product and price.
Almost all Indian brands have gone to smaller towns and villages first - the easier option because multinational brands haven't focused there. Features like long-lasting battery and dual SIM-card carriages were developed specifically for this market.
Having established themselves, they have now begun to move to bigger towns and cities. All for them also want to move up the value chain with 3G and lifestyle phones. That is when they will hurt the multinationals the most.
Before the Indians burst into the scene, most handset makers gave a margin of 2-3 per cent to their retailers. The street-smart Indian brands have raised it to 6 per cent and beyond. Retailers can be found pushing these brands aggressively.
Most of them now want to sell in other emerging markets. Some have already gone to neighbouring countries like Sri Lanka, Bangladesh and Nepal. All of them want to go to Africa.
Taken together, the continent offers a market that is almost as big as India - about 10 million handsets a month. One or two even plan to venture into Brazil, East Europe and Russia! Their success in India has given them a lot of confidence.
As these markets are similar to India - some are slightly more advanced, most are a little behind - these companies feel they have the right price-value combination. The challenge will be distribution. But if they can sell in a large country like India, they should be able to sell elsewhere also.
All of them get their handsets made in China - it accounts for 60 per cent of the handsets made in the world. Micromax has as many as 11 suppliers there. It has a wide range of products and, therefore, this large army of suppliers. But all of them are worried about the import of telecom equipment from China, handsets included.
Out of security concerns, the Indian government is not keen to have Chinese telecom hardware close to its international borders. As a result, these companies fear that there could be some adverse policy measures against the import of handsets from China.
To cope with this, some of them are mulling production facilities in India. As a hedging strategy, it may be fine. But will they be able to maintain their price advantage if they shift production to India?
But these are very smart people. Some of them take big decisions while walking down the corridor. They are not bogged down by bureaucracy. Young people have come to believe in these start-ups and their dream to change the world.
Some of these companies have recruited from the Indian School of Business in Hyderabad, Indian Institutes of Technology and Indian Institutes of Management. This is not a small feat. And herein lies the lesson for other Indian businessmen. Instead of surrendering meekly to the firepower of multinationals, they can take them head on if they get all the pieces of the jigsaw puzzle right.