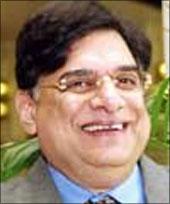 Surinder Kapur walks into the vast lobby of the Leela Kempinski in Gurgaon smack in the middle of furore that has everyone transfixed. A guest with a thick European accent is loudly berating the staff.
Kapur isn't the kind of busy-busy executive to disregard the entertainment afforded by a public hullabuloo. "This is interesting," he says with a grin and we stop to listen, writes Kanika Datta.
He's chosen Spectra for this lunch meeting, a coffee shop laid out in the trendy style that hotels favour nowadays with food counters and lots of glass and leather.
Kapur has changed little, either in looks or manner, from the early nineties when he had just set up his first company, Sona Steering, and was shuttling between Delhi, his headquarters, and Mumbai where he also ran his father-in-law's company Bharat Gears.
Despite two decades spent building a Rs 3,000-crore (Rs 30 billion) auto-component empire that supplies almost every large automobile maker in India, Kapur lacks the settled gravitas of the self-made businessman.
When I ask his office how old he is, the cryptic reply is 'young'. He's dressed ultra-casually in an open-necked T-shirt with the Sona logo. Was this uniform now? No, it was just too hot to wear anything else, he explains.
He may be feeling Delhi's summer more than most since for about 10 to 15 days every month for the past year, he and his wife live "like university students" in a small apartment in Munich where he says he's enjoying himself turning around a German precision forging company called BLW (now Sona BLW), which group company Sona Okegawa acquired in late 2008.
Headquartered in Munich, BLW is "about ten times the size of Sona Okegawa" and "a terrific buy" because it is the originator of precision forging technology for differentials and transmissions.
Since it has proprietary, global technology and supplies to the "Who's who of the European automotive business", Kapur proposes to make BLW centre of a "string of companies around the world that produce the same products with the same technology".
BLW has three plants in Germany, one in the United States and two in India. Although the company is doing exceedingly well in India, it's been hit by the financial crisis in Europe.
"When we took over the company it had 1,700 people -- and was doing about Euro 30 million a month. When it hit the bottom we were at Euro 12 million, now we are up to about Euro 19 million a month."
Fortunately, he added, the company was able to cut a lot of costs but struggled most with people costs. Nevertheless, he's managed to pare the workforce to 1,350 by weeding out temporary and contract workers and save costs on another 350 via a programme called "short work zero".
We break off to order. Kapur is temporarily vegetarian, having taken a wager with his younger daughter, and asks for a plain margarita pizza with a jalapeno topping. Having eaten here before, he approves of my choice of Thai chicken curry and rice.
How does he manage to stay vegetarian in Germany? It's not difficult, he replies. "I thought there were 10 or 15 Indian restaurants in Munich but when I checked I discovered there are over a 100!" He's found this place that does wonderful chhole bhature and that's his weekend treat when he's in Munich.
He gets back to explaining short work zero, which is basically a time-bound government-subsidised programme that allows workers to stay at home for a period.
Under it, the government pays 65 per cent of the salary and the company 20 per cent, which means employees effectively take a 15 pay per cent cut.
Kapur and his team negotiated with the union (which comes under the giant, formidable IG Metall) for the remaining 1,000 employees to contribute 7 per cent of the 20 per cent company's pay-out component so that the costs were shared.
"We're coming out of the recession much leaner and more efficient and, because the economy is picking up faster than I expected, we're beginning to break even," he says.
It is striking that Kapur is so upbeat about his German business -- "it's an exciting environment because the volumes there and the markets are huge" -- when Indians perceive Europe as being in decline.
He admits that with average per-employee costs of Euro 55,000-60,000 a year (roughly Rs 35 lakh), manufacturing in Germany will not be competitive over a period of time. But he admires the country's product development capabilities and predicts that it will stay ahead of the curve "because Germans are able to evolve and develop products".
As he liberally sprinkles chilli flakes over the pizza (in spite of the large jalapenos covering it), Kapur says Sona BLW and spending time with his five grandchildren take up most of his time. He reckons that running the European business -- which includes acquisition plans (this time in "English-speaking countries, there's too much stress in countries that don't follow the language") -- will keep him occupied for at least another two years.
All of which suggests he was stepping down from his Indian empire. The response is an emphatic "no". Though he holds monthly meetings to stay in touch with the Indian businesses, a succession plan is in place. He's separated the equity of the companies run by his son and sons-in-law.
One holding company owns Sona Koyo and Sona Okegawa (son Sunjay is vice chairman and managing director of the former).
The other holding company owns Mahindra Sona, of which the older son-in-law Gaurav Motvani is deputy managing director and CEO, and Sona Somic Lemforder, of which Himanshu Koirala is vice president, business development.
Two years ago, he had told Business Standard that the three "don't understand the businesses of Sona group companies in the true sense. This means they should not get into the operational part of the business".
How did he rate them now? Gaurav, he says, is good at finance because he has a very analytical mind being a Wharton graduate. Himanshu (who, incidentally, is the grandson of former Nepalese prime minister G P Koirala) is very good at relationship building and "Sunjay has strong leadership capabilities and a good sense of seeing business opportunities".
"Each of them has their own strengths and management style but what I'm really expecting from them is that they continue the same values and culture that I set in place," he says.
I finish most of the Thai curry, which is robust but not over-spiced, and Kapur has eaten all the pizza but left a neat pile of crusts. It seems a frugal meal for him but he insists it's enough for the time being -- he's on some kind of regimen that requires him to eat smaller meals more frequently. We decline dessert but opt for coffee -- a double espresso shot for him and black coffee for me.
Inevitably, the conversation turns to India's future. His contention is that there is any number of good ideas for development but they all founder on poor implementation.
"Forty years ago, Dhirubhai Ambani talked about a tunnel from main Bombay to Alibaugh. All he wanted was land and he offered to build the tunnel free," he says, adding, "The idea of the sea-link was raised 30 years ago -- the Arabs who would build it only wanted advertising rights on the link, they didn't want a penny. And did you know that in the fifties, General Motors and Fiat offered to build highways from Chennai to Delhi and Bombay to Calcutta in exchange for toll rights. And we said no!"
Kapur comes from one of the established Delhi business families -- Sona, from which his group derives its name, is a century-old jewellery business in which he still has a share. He married into another (he is Raunaq Singh's son-in-law) and has scads of celebrity friends plus an actress, Karishma Kapoor, for a daughter-in-law.
So why isn't he more visible on Page 3? "I used to be," he laughs, adding, "I've had my share of Page 3 in Bombay in the nineties and I used to sit on the board of Amitabh Bachchan's company but now I think I'm past the Page 3 age."
After the meal Kapur suggests a quick tour of the restaurant with its lavish food displays. Out in the lobby, he asks whether the irate guest's problem has been sorted out before he gets into an oldish Toyota Camry for the drive back to the office.