Sebi's go-to consultant for legal issues works a 16-hour day but yearns to play with his two-year-old grandson, writes Palak Shah.
The Takeover Regulation Advisory Committee of the Securities and Exchange Board of India made public its recommendations just a week after the World Cup football tournament ended.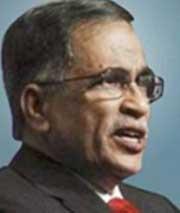 Its author C Achuthan stayed up all night to watch every match from the quarter finals on to see if the team he was backing, Germany, would make it through. Although he's approaching 70, he showed no sign of fatigue the day the code was put up for public discussion.
Friends and colleagues at his south Mumbai-based law firm Corporate Law Chambers India don't see this as unusual since Achuthan's average workday is 16 hours. "I can't retire, I will keep working as long as the engine of the body is running," he explains when quizzed about his workaholic ways.
That engine has helped him rewrite a takeover code that has met with general approval from India Inc. There is a certain irony in the central role Achuthan has played for the market regulator in rewriting these critical guidelines - as is the fact that since 2008, he has been Sebi's go-to man for legal issues.
That's because till 2003, he was Sebi's biggest legal critic as the first presiding officer of the Securities Appellate Tribunal.
But then, almost nobody knows Sebi quite as well as Achuthan does. He was part of the think tank involved in conceptualising and drafting the Sebi Act that created India's stock market regulator.
Achuthan, who joined the Indian Legal Services and served on the Company Law Board, was SAT's sole presiding officer from 1997 to 2003, a period that covered several cases of market manipulation, the most notable being the scam involving the broker Ketan Parekh.
"Those were tough days," he recalls. SAT worked on a tight annual budget of Rs 1.5 crore, there were no computers or even a secretary to help him. After hearing cases till the evening, Achuthan says he drafted the orders himself.
"All I could do while I was hearing sensitive cases was pray that I did not make any mistakes since these were serious matters and could not be discussed with anyone."
And there was no shortage of "sensitive cases" to handle - from Sterlite Industries, BPL, Videocon, Anand Rathi (the stock broker), Grasim, Wimco, Clariant, Gujarat Ambuja and Herbertsons - most of which established Achuthan's reputation for impartiality and concern for shareholder interests.
It was on Achuthan's watch that the government also amended the law to empower Sebi to issue directions with penal consequences in 2002, a decision that was to have far-reaching consequences.
Among other landmark decisions was an order to Sebi not to cancel the registration certificates of broking firms run by Nirmal Bang and his associates on grounds that the market regulator had not proved its case of market manipulation adequately.
His involvement with the takeover code is not new. His 2001 ruling that Indian law would apply to cases involving the acquisition of Indian companies by foreign parties helped shareholders of Seamec get an acquisition price of around Rs 250 per share against Sebi's award of Rs 42 per share when French company Technip-Coflexip acquired it via a complex process in 2000.
SAT's orders were frequently upheld by the high courts after they were challenged - including by some powerful multinationals like BP.
It soon became obvious that Sebi was growing conscious of Achuthan's role in SAT. For example, in 2002-03, SAT had allowed 26 appeals filed against Sebi orders and an equal number upholding the regulator's orders.
Against the 26 adverse orders, Sebi opted to appeal against only three, out of which only two were favourable to the regulator. It was in this context that then Sebi chief G N Bajpai said: "Every other order passed by Sebi is set aside by SAT. As such, the SAT should be immediately restructured to make it a three- member body."
Achuthan was only too pleased. "I, too, was in favour of the fact that SAT should have a three-member team since we worked under great difficulties," he says. A few years after retiring from SAT, Achuthan went on to become a part-time member on Sebi board.
But retirement in 2003 did not see Achuthan sit back. When Ramalinga Raju confessed to inflating profits in Satyam Computers in early 2009, he was drafted on the board by the government to try and salvage what was then India's fourth-largest IT company.
"Satyam was a great challenge. But Achuthan was ever ready for any legal assistance," says fellow board member Kiran Karnik.
Then, too, Achuthan was concerned with interest of Satyam's employees and its large investors. As a board member of the National Stock Exchange, Achuthan is often balanced in his view, says R H Patil, former chairman and a board member.
Born and initially educated in Atavan, a small village in Mallapuram District of Kerala, Achuthan read law from Bombay University before sitting for the Indian Legal Services exam. Today, he counts among his close friends former Sebi chairman M Damodaran, T K Viswanathan, the current advisor to Union Law Minister V Moily, and R N Bansal, the former member of Company Law Board.
After submitting the revised takeover report, Achuthan's says his top priority these days is to spend time playing with his two-year-old grandson Ahaiin. That can be guaranteed to keep his hands full.