Dr Singh has shown little initiative in either disciplining or getting meaningful work out of his errant ministers belonging to coalition partners, writes A K Bhattacharya.
Few management experts will disagree with the view that stability and continuity at the top add to the strength of an organisation. Many companies in India and even multinational giants ensure that their chief executive officers get a clear tenure of five or ten years.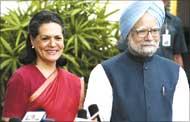 Apart from providing stability and continuity at the top, such a system also allows the chief executive officer sufficient time to prepare a plan of action and execute it to ensure growth for the company.
If one were to judge the United Progressive Alliance government by that criterion, Congress president Sonia Gandhi and Prime Minister Manmohan Singh would appear to have shown unflinching faith in the management principle of ensuring stability and continuity at the top.
The new governance model crafted in 2004 at the start of the UPA regime remains intact. Manmohan Singh runs the government and Sonia Gandhi runs the Congress party and the alliance.
Even while running the government, Dr Singh makes sure that Mrs Gandhi remains the overall boss. Six years later, that arrangement continues, without any major problem between the prime minister and the Congress party chief.
However, such total faith in the principle of stability at the top has caused a different kind of problem for the UPA government. It appears that even while deciding on his Council of Ministers, the prime minister has relied on the same principle.
In other words, Dr Singh has changed few ministers. As a result, many ministries have seen no change in their leadership for almost about six years now.
Two examples come to one's mind almost instantly - Sharad Pawar and Praful Patel. Both of them belong to the Nationalist Congress Party, a UPA partner, and both of them have been in charge of the agriculture and civil aviation ministries, respectively, since 2004.
Dr Singh has persisted with them even though their performance in the normal course should have prompted either their removal from the Council of Ministers or at least a reshuffle of their ministerial portfolios.
In coalition politics, it seems, dealing with a minister belonging to an alliance partner often becomes a problem. However, their continuation cannot be justified on the grounds of providing stability and continuity at the top of the two ministries. Instead of enhancing the government's functional efficiency and effectiveness, such stability and continuity have been counterproductive.
Indeed, if Dr Singh wanted to provide to the people a government that performs, he could have reshuffled the portfolios of these two ministers at least in May 2009 when the second term of the UPA began. Nothing was done. Instead, the attempt was to maintain continuity of ministerial leadership wherever this was possible.
Not surprisingly, Dr Singh's reluctance to reshuffle ministers in the last six years has been a remarkable feature of his administrative style. Ministers have been shifted only under the gravest of provocations.
Shivraj Patil's track record as an ineffective home minister should have deprived him of that crucial job several months before his eventual removal after the 26/11 attack in Mumbai in 2008. Mani Shankar Aiyar was another high-profile case when he was shifted out of the petroleum ministry in 2006.
Note that both these changes took place in the first term of the UPA. In the first year of UPA-II, there have been occasions when Dr Singh should have considered a change in his Council of Ministers. However, no such move has been made.
Mamata Banerjee as the railway minister is presiding over the gradual decline of the country's largest transporter of people and goods, but she continues to be at its helm just as Praful Patel is retained as the head of the civil aviation ministry.
Two signals have emerged from the manner in which Dr Singh has dealt with his ministerial colleagues so far. He has shown little initiative in either disciplining or getting meaningful work out of his errant ministers belonging to coalition partners.
Consider how Communications Minister A Raja from the DMK has gone on merrily, unperturbed by whatever may have gone wrong under his charge. Two, Dr Singh has given his ministers a relatively free hand in running their ministries.
This has given his government both stability and continuity. However, with no control over ministers belonging to coalition partners and only a few efficient ministers from the Congress party, such stability and continuity have failed to produce the desired results. Indeed, they may have become a liability.