It will take a lot more than just tinkering with the city - it's a whole new urban challenge, writes Barun Roy.
One of the many "visionary" things Trinamool Congress leader Mamata Banerjee has promised to accomplish if her party comes to power in West Bengal is to turn Kolkata into London. Well, as visions go that's laudable, indeed, but, as mankind moves irreversibly into a rapidly urbanising world with worsening living conditions, visions alone won't ease the urban pressure.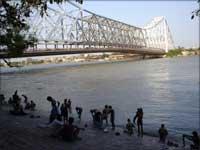 Of course, Mamata is being euphemistic. No city can be a clone of another unless it's an artificial copy dropped from heaven. We take it, therefore, that her reference to London stands for what a good, liveable city should be like: clean, green, orderly, commuter-friendly, aesthetic, harmonious, and well maintained, with lots of open areas, well-laid roads, and a balanced integration of spaces for business, work and leisure.
In Kolkata's case, it would also mean banishing hand-pulled rickshaws and hand-pushed carts, permanent vendor occupation of sidewalks, festering slums - London doesn't have any of these - and everything else that contributes to urban chaos and unhealthy living conditions. If that's the case, her city would require massive, bold, and often unpopular reconstruction of its image. Would Mamata have the political courage to take such measures?
Kolkata's ills are true of most of India's cities. London or not, they all need massive redevelopment, and the same question must be asked of all who are charged to save our cities from degenerating into urban rat holes. It's all the more urgent since we seem blithely oblivious of the magnitude and complexities of the urban challenge while the rest of economically dynamic Asia is continuously reshaping its urban future.
Singapore we all know. Hong Kong is an amazing example of how to stay alive and thrive within narrow geographical limits. Kuala Lumpur has wonderfully preserved its picture-postcard image by developing a new and equally picture-perfect administrative centre, Putrajaya. Seoul has improved its look dramatically simply by relocating its business and government districts and turning the giant former centre-city traffic intersection into a park. Bangkok isn't a nightmare anymore.
Even Hanoi and Ho Chi Minh City are transforming so nicely as to earn the world's attention. Both cities have moved out thousands of people to make room for inner-city redevelopment while building new, well-connected suburban centres to balance out the distribution of populations and activities.
But it's in China, more than anywhere else, that Asia's urban history is being rewritten. Beijing is a shining example of how a whole new city can rise on its old foundations when action blends with vision in equal proportions. Based on the concept of "one street, one centre, and four parks," downtown Shanghai has thoroughly reconfigured its residential space and created a more harmonious balance between various urban functions. Seventy other major cities around China are spending scores of billions of dollars to build a brighter urban future.
Obviously, such changes can't come from patchwork and tinkering. They involve drastic demolitions, massive rebuilding, and large-scale relocation of affected people. Beijing's old quarters, for example, are being knocked down to make room for new roads, flyovers, high-rise residential complexes, and greenbelts.
Of course, such drastic facelifts can't always be popular, and, in the face of frequent popular outbursts against such changes, the authorities have been obliged to frame new rules to make it harder to seize property and turn it over to developers without full compensation.
Demolitions can't start until sales, compensation and relocation details are approved by two-thirds of affected homeowners. But, if anything, the new rules only reflect the government's willingness to mend its ways wherever necessary in order to reach its desired goal, not any inclination to step back from its course.
True, China's urban programme stems from its intense craving to present to the world a dynamic, captivating, modern face. But it's also born of a clear realisation that the future city must be a place where people and their activities can exist in a healthy balance.
The Germans have a new word for it - "balancity" - which is how they describe their presentation at the ongoing Expo 2010 in Shanghai on the theme "Better City, Better Life". Unless there's a balance between renewal and preservation, innovation and tradition, urbanity and nature, community and individual development, and work and leisure, a city can't be a good place to live in.
The Chinese have taken this concept to heart. One may not like the radicalism of their approach, but we'll be kidding ourselves if we think we can transform our cities by simply tinkering with them.
How will cities expand without encroaching on outlying rural areas? How are we going to build wider, straighter, newer roads unless we demolish obstacles coming in the way? How will the environment improve if there's no space to put in additional greenery? Our urban future will depend on how bold are we about answering these questions.