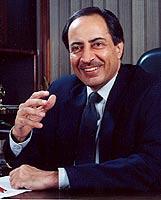 Sanjeev Aga says he spent the best two years of his life in the North-East when he played from morning till night, and didn't have to go to school.
His father, an army doctor, was posted in a remote place without a school - something that was a constant source of worry for his mother who took on the role of his maths teacher while his father taught English.
Aga, instead, seems to have capitalised on the lessons given by his parents in those two formative years of his life and ended up at St Stephen's College and then IIM Kolkata, the common destination for all those aspiring to get an easy access to the corner office, writes Shyamal Majumdar.
We are at Maya, the "Indian" restaurant on the first floor of Trident at the Bandra Kurla Complex, a venue Aga chose because it's near his office. He clearly doesn't share the enthusiasm of the steward and tells him that he would prefer something light to avoid sleeping through his afternoon meetings.
Going by his choice - phulkas, baigan ka bhartha and dal - Aga must have been extra alert when he sat through those meetings. It also perhaps explains his slim build at the age of 58.
The managing director of Idea Cellular, the country's fourth largest telecom services operator with 70 million subscribers, is not a conventional CEO.
Examples: He doesn't read management books ("In fact, I treat people who read them with some suspicion"); prefers to keep a safe distance from golf as it is an addiction; avoids the so-called networking parties as he finds them tiring; doesn't want to give up his middle class lifestyle; has enough time in the evenings to watch features and sports on TV, and read all kinds of books, his favourite author being V S Naipaul.
As the food comes at a lightning speed, Aga says most of the things in his life have been unplanned. For example, he got into IIM not because of some extraordinary hard work or careful career planning, but because he was "gifted enough to somehow get through".
He remembers Becket, the famous film starring Richard Burton in the title role. In the film, King Henry II (played by Peter O' Toole) appoints Becket, a Saxon commoner and partner in revelry, as the Archbishop of Canterbury in order to have a close confidant whom he could completely control. But after getting that responsibility, Becket has a change of heart and becomes a major thorn in Henry's side when he supports the Church in its disputes with the King.
Aga says just like Becket, his life can also be divided into two phases: pre-35 when he was content with whatever came his way (he was mostly selling paints those days) and post-35 when he was suddenly promoted to a senior position at Blow Plast. "The responsibility of steering a business made me that much more responsible," Aga says, agreeing to be served the third phulka after a lot of insistence from the waiter.
Greater responsibility was thrust upon him in 1993 when he became the MD of Blow Plast, a position he held for six years before the Birla-AT&T telecom venture beckoned him as CEO - a company that became Birla Tata AT&T after the merger with Tata Cellular, and before the three-way joint venture's aborted merger with BPL Communications.
However, his career went through quite a few twists and turns - around issues surrounding four sets of promoters (Aga doesn't want to talk about that) following which he bided his time at the Aditya Birla Group as CEO of PSI Data Systems, Aditya Birla Minacs and NGK Insulators. In 2005, he was appointed MD of Aditya Birla Nuvo and after a year's stint, took charge of Idea Cellular once the Tata group exited the venture.
But is he happy with the fourth largest tag for his company at a time when the gap in subscriber base with the top three is over 30 million?
For once, Aga looks irritated. "For me, revenue and profitability are important. Nothing else matters, and by that yardstick, we are among the top three," he says.
Idea has come a long way in the last two years and has shed the tag of a regional player after it rolled out its pan-India operations. "The regional tag is just a perception as we were earlier not present in the big metros. The time for Idea has come," Aga says, with a flourish.
The company showed some of its ambitions when it won licences to provide 3G services in half of India's 22 service areas at the end of a 34-day auction, agreeing to pay the government Rs 5,770 crore (Rs 57.70 billion) for the rights.
Aga says like all his competitors, he would have also liked to get all 22 service areas, but the company gave up that aim as bids surged to two and three times the initial estimates.
The lunch is over quite fast and to my relief, Aga doesn't mind having dessert. He asks for fresh mangoes and then settles for mango <I>shrikhand </I>after seeing the waiter's apologetic looks.
He, however, is quite upset with the "bloodbath" in the telecom industry and the way some operators are engaging in price wars which would cut local call charges to unsustainable levels.
"Some companies cosied up to get a telecom licence, thinking that it's some kind of a gold mine. Some smartly sell out, while others have got stuck once the bubble burst. I expect a fresh round of shake-out, which will be faster than what people expect," Aga says.
The mango shrikhand - I had opted for kulfi - seems to have put him in a happier frame of mind, as Aga talks fondly about the birth of "idea" as a brand name. The brief to the agency was clear: the name should not have any "tel" or "phone" attached to it and it should be simple and suggest innovation.
Everyone associated with the exercise was struggling with a whole lot of names, but nothing was clicking even though the deadline was approaching fast.
A desperate Aga combed through a thesaurus at night and stopped at the word "idea" as it was unimaginably simple, sublime, yet innovative and cut across language barriers. "It was my luck," Aga says with pride. But the problem was far from over as there was no way "idea" could be trademarked.
The ad agency then got into the act and came up with "i" in reverse, which looks more like an exclamation mark. To make sure that everyone understands that it is a telecom services brand, the name was super-imposed within the visual of a sim card.
He doesn't forget to thank Balki and his team at Lowe for the great campaign - What an idea, Sirji - which has become almost an anthem nationally. The next idea in the series of these campaigns has already been finalised and the team is in the process of wrapping up the logistics and tying up the dates.
As we walk out of the hotel, Aga talks about his plans for life after Idea. Though he hasn't finalised anything, he says he wouldn't mind reading and teaching and writing.
The best years of his life, it seems, are still some time away.