Opening up borders between India and countries like Bangladesh can make the North-East region the fulcrum of India's 'Look East' policy, writes Jyoti Malhotra.
During her meeting with a handful of Indian journalists just as she was wrapping up her visit to New Delhi last month, Bangladesh Prime Minister Sheikh Hasina was asked how the pro-Jamiat-i-Islami newspapers back home had reacted to her handing over of Ulfa terrorist Arabinda Rajkhowa to India.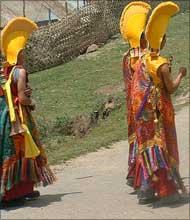 "Aaami kichhu jaani na (I have no idea what you're talking about)," the lady protested in Bengali, waving her hands and emphatically shaking her head. Everyone laughed with her.
So, here is the plain truth that will be confirmed neither by the Ministry of External Affairs in India nor by the Foreign Office in Bangladesh, because it might be too weighty to bear on both sides: Arabinda Rajkhowa was not trapped or captured by sundry Intelligence Bureau decoys playing Hercule Poirot, as he was getting on or off a bus somewhere in the shifting borderlands between Assam and Bangladesh.
The fact is, Sheikh Hasina made the enormously courageous political decision to hand over Rajkhowa to India not only because she wanted to repair relations with her large neighbour, but also because she wanted to cleanse her own country of sources of terrorism that had bred there for so long.
So, how can India repay for Hasina's neighbourly gesture? In one sentence, open up the borders between India and Bangladesh, much like what exists currently between India and Nepal, and put a free trade agreement in place between the two countries.
Analysts on both sides of the border argue that if the Manmohan Singh government is able to dismiss its protectionist lobbies at home in favour of the larger picture, India could dramatically change the sense of alienation and despair that remains a byword for the North-East region.
In many ways, with its 4,096-km-long border (262 km with Assam, 443 km with Meghalaya, 318 km with Mizoram and 856 km with Tripura) with India, Bangladesh is the most important country in the North-East region. Tragically, no land border exists with any of these states. Significantly, at the only land border point - Benapole-Petrapole in West Bengal - estimates of "bootleg" trade and smuggling amounted to $442 million in 2002, while recorded land imports amounted to $580 million.
So, when several members of Parliament from the North-East region agreed to come together in a forum in Gangtok in mid-February, they agreed that it was not only possible, but imperative to transform the region's poverty and backwardness, which, in turn, bred ethnic divisions and mindless violence, into a stable and thriving entrepot pursuing cross-border linkages with its immediate neighbourhood - Bangladesh, China, Myanmar, Nepal and Bhutan.
Everyone in Delhi worth his salt knows all of the above. None other than Prime Minister Manmohan Singh, in his first administration, pushed for the softening of the Line of Control between the two parts of Kashmir, an idea that he had inherited from BJP leader and former Prime Minister Atal Behari Vajpayee.
Unfortunately, in his second term, Manmohan Singh, although he has been elected from Assam, seems unable to visualise a North-East that returns to its pre-1947 spirit of enterprise, where profit and purpose go hand in hand.
The fact is, just as Arabinda Rajkhowa and other absconder-terrorists like Anup Chetia (roaming free in Bangladesh) and Paresh Barua (moving easily between China, Myanmar, Bhutan and Bangladesh) jump(ed) frontiers with kindergarten ease, thousands of people pay little heed to the shadow lines on the ground that masquerade as borders. Few have passports. Many are plying their homespun trade to make both ends meet, some are pursuing a bride or bridegroom and more than a few are simply doing it for a lark.
Of course, if you asked Delhi, they would all be clapped into the nearest jail for being so dismissive of sovereignty. Except, on the ground, there's little time for so much emotion. It's easier to pay a small bribe (Rs 10 or 20 will do) if one happen upon a uniform who asks one too many questions.
Imagine, said PD Rai, the eloquent MP from the Sikkim Democratic Front, how the region would change if all the North-Eastern states could establish their own border crossings, trade marts, transport services with these neighbouring countries.
The North-East region would return to being the political and economic heart of the region, connecting the world's fastest-growing economies, India and China, helping both Myanmar and Bhutan to open up to the rest of the world and building capacities in the economies of Nepal and Bangladesh.
The continuing tragedy of the North-East region, Rai added, is that the region has been pressing Delhi for several years to open up, enhance border trade and allow free flow of people across regulated border points.
But Delhi, always so preoccupied with security considerations, including cross-border terrorism, has either sent the file for yet another set of comments to yet another ministry - home, commerce or external affairs - or simply refused to respond.
Clearly, a historical moment is at hand. Besides Sheikh Hasina in Bangladesh, the military junta in Myanmar is favourably inclined towards India, and King Khesar Namgyal Wangchuk of Bhutan is a close Indian friend. Only in Nepal is the political polity divided over India.
Just as the prime minister is getting ready to engage with India's neighbourhood on its western frontier, Pakistan, the East beckons. In fact, enhancing both border trade - Tamu (Myanmar)-Moreh (Manipur), Sikkim-Tibet (China) at Nathu La pass, Sabroom-Ramgarh in Mizoram - and reopening the Stilwell road to the Yunnan province in southern China as well as pursuing big profit by making use of big ports like Chittagong and Ashuganj could make the North-East region the fulcrum of India's "Look East" policy.
The profit motive could, in fact, stiffen Hasina's spine and allow her to hand over Paresh Barua and Anup Chetia as well - as well as take credit for it, both domestically and internationally.
For all this to happen, however, the region's MPs will have to take charge. It helps that Manmohan Singh is one of them.