Emotional chicanery or fiscal prudence? Whatever it turns out to be - artist M F Husain's decision to accept Qatari citizenship will result in the hardening of his prices, writes Kishore Singh.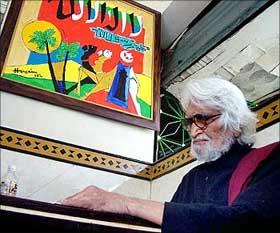 Last week was spent in hand-wringing over M F Husain's decision to accept the offer of a Qatari citizenship, but no one looked beyond the obvious reason (several court cases filed by political lumpens who are also threatening him with everything from vandalisation to violence if he returns to India) that made him arrive at the choice.
India's best-known artist has been out of the news for a while and for Husain there's nothing he enjoys more than media attention. In Dubai and London, where he has chosen to live in self-exile, he gets a lot of Western press, but is unhappy with its patronising platitudes: They have only just discovered him, but he has been at the centre of the (creative) universe for as long as he can recall.
But moderating media attention may not be the (only) reason for Husain making a splash in his home country, as newspapers and channels raked up stale controversies, and blamed the state for failing to provide him with security.
Maybe Husain is right in fearing for his life - he, after all, is the one who has been threatened - but we must not forget that it is possible he is playing to the galleries. And at the bottom of that might be something Husain is very smart about: fiscal prudence.
In the decades that Husain was the uncrowned king among Indian artists, someone pointed out that Husain sa'ab liked surrounding himself with wealthy patrons, and got a kick out of being the most expensively priced artist in the country.
The last decade changed that. International markets opened up, auction houses started dedicating sales to works from India or South Asia, and suddenly other artists were not just competing for Husain's crown, they were also surpassing his prices. Everyone from fellow Progressives F N Souza, S H Raza and Tyeb Mehta to newbie contemporaries like Subodh Gupta were selling at prices that made company turnovers look weak. Was Husain losing his monopoly at the top of the art indices?
He arranged private sales of works and leaked news of them to the press, besting his colleagues' canvases with triptychs. He created a stir with a manipulated Rs 100-crore (Rs 1 billion) offer for a body of works via an unknown collector (who, alas, knew nothing about Husain, leave alone art). But, at best, all this was a losing battle.
Now view his acceptance of a Qatari citizenship against this background and see how it begins to make sense in terms of financial invincibility. We are aware of the offers made to him to paint the Arab civilisation (money no bar) as well as setting up a museum of Husain's works somewhere in West Asia (Doha?). Yet it is the impact on the prices of his works that is important.
For now, there might be a certain amount of panic in the market as collectors jostle to buy Husain's works because any new paintings he is creating are no longer finding their way to India, but also because there is the legitimate fear that he will probably shift his unsold artworks from India to Qatar.
This will lead to a scarcity - real or imagined - that in turn will drive the prices up. Therefore, expect Husain's paintings to sell for much more than was anticipated at the spring auctions in India and internationally.
There is no shortage of Husain's works in the country - he has remained one of the most prolific artists of the last century, and remains agile in the studio even now, though he will be 95 years old this year. But the fear that the works will flee the country will spur collectors to pay over market actualisations. That we have seen very little of his recent work from Dubai adds to the speculation that he is no longer painting for Indian collectors and, therefore, his Arab works are unlikely to enter the market at all.
By how much will his works rise? An important thing to understand in Husain's case is that he has sold more steadily than his peers, as a result of which most of his masterpieces are either in museums or in important private collections. These works, at any rate, are unlikely to ever enter the market. The prices of these works will remain Husain's highest but, at best, notional. This is not to say that important works will not come into the market, and punters are already hedging their bets that Husain's prices could rise anywhere from 20 to 50 per cent.
The Husain prognosis: Buyers can hope for their best prices now, even though they have likely already started to rise. Sellers can sit back and relax, it's bonanza time on Husain sales, starting now; and collectors should wait and watch - the better works will come into the market once prices have hardened. But of one thing you can be sure: Husain will reign over the fiscal firmament once more and dislodging him is going to be more difficult this time.
These views are personal and do not reflect those of the organisation with which the writer is associated.
Image: A photograph of painter M F Husain at a restaurant in Ahmedabad.
Photograph: Mayur Bhatt/ Saab Press