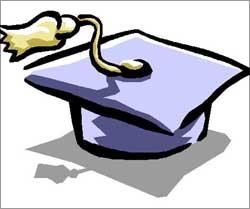 Apart from the possibility that top-class foreign universities will not want to set up campuses if they're going to come in as 'deemed universities', there is the issue of a level playing field for Indian institutions. Here are two voices, one for and the other against the Bill. Read on. . .
B Raj
Country Head and Director, Stamford India Education Centre
Well-established, foreign universities may not like the deemed university status in India -- they may consider such campuses as a dilution of quality.
The Foreign Educational Institution (Regulation of Entry and Operation) Bill, 2010, if passed in its current form without removing the existing anomalies in the higher education system, will lead to deterioration in quality and increased corruption in higher education.
Unlike his predecessors, Kapil Sibal has made a sincere effort to improve the higher education sector, but he has unfortunately not been able to make the Bill attractive enough to get in enough foreign universities to help India improve higher education and achieve a gross enrolment ratio (GER) of 21 per cent.
India has one of the largest higher education systems in the world with around 430 universities and 22,000 institutions of higher education.
The present GER in higher education is around 12 per cent (world average 23.2 per cent, developed nations 54.6 per cent, Asian countries 22 per cent) and the government wants to increase this to 21 per cent by 2017.
There is an interim GER target of 15 per cent by 2011-12, for which the enrolments in universities/ colleges need to be substantially raised to 21 million students. The government estimates that the share of enrolments of private, unaided higher education institutions will be around 51 per cent. It is obvious that the government alone will not be able to achieve GER target and will require public partnership, private investment, and participation of foreign institutions to achieve this ambitious goal. 
After the Cabinet approved the Bill, Sibal said "This is a milestone which will enhance choices, increase competition and benchmark quality. A larger revolution than even in the telecom sector awaits us".
In the telecom sector, MNCs have given tough competition to MTNL and BSNL and, as a result, consumers in India can now make a telephone call at 30 paise/minute from anywhere to anywhere in India. MNCs that have brought down the prices in telecom sector are allowed to transfer the profit back home.
Higher education is private investment for private gain. In India, most of not-for-profit educational institutions are serving public interest for "private gain", thus making higher education unaffordable.
Malpractices like capitation fee exist because of the not-for-profit concept in higher education. Increasing private investments in higher education can produce greater benefits, including enhanced access to higher education and improvement in quality, with the increased competition in a levelled playing field. 
But there is hardly any incentive in this Bill for genuine foreign universities to set up campuses in India. The big question is why a foreign university should use its own resources and capabilities to solve India's problem of higher education. What will they get in return?
In order to enter, universities need to invest in at least 51 per cent of the total capital expenditure needed to establish the campus. Getting a suitable, accredited Indian partner who is really not interested in profit for remaining 49 per cent investment will be difficult for an accredited foreign university.
The university has to go through an elaborate three-level registration process and will be granted deemed university status under Section 3 of the Universities Grants Commission Act, 1956. 
According to the proposed NCHER Bill, universities will not be able to appoint vice-chancellors (VCs) on their own. It will be the prerogative of the NCHER to appoint VCs of all universities in India. Therefore, despite having a majority stake, foreign universities will not be able to appoint VCs on their own.
Higher education in India has always been over-regulated and under-governed. Moreover, well-established accredited foreign universities/institutions may not like the status of a 'deemed university' in India and may consider off-shore campus in India as a dilution of quality and something that can lower their brand image.
Hence, most foreign universities will continue to explore collaborations/ partnerships with Indian educational institutions rather than setting up campuses in India. 
Many believe this Bill will help save an outflow of about $7.5 billon of foreign exchange per annum as over 500,000 Indian students go abroad for higher education (mainly in engineering, management and medical courses).
The reason for studying abroad is not just acquiring a foreign degree but to get exposure to the foreign culture and environment. Moreover, it is the work permit (an opportunity to work in a foreign country) after successful completion of the course that encourages the students to study aboard.
Students will continue to go aboard for higher studies as foreign universities' campuses in India will neither provide foreign environment nor the work permit to them.
---
B S Sahay
Director, MDI, Gurgaon
The government must ensure the same rules apply to Indian institutions, whether on reservations, on fixing fee, on taking out surpluses and so on.
The Foreign Educational Institution (Regulation of Entry and Operation) Bill, 2010 has been hailed by most Indian institutions including the Management Development Institute (MDI).
Healthy competition is good for growth of the economy and, thus, for the country. We have seen the positive impact of competition in many sectors like telecom, automotive, IT etc, and I presume this holds good for the higher education sector also.
I have not seen the revised draft of the Bill, and am going by what has been reported in the media. I think this is a bold step in the right direction.
However, the government must ensure that only top-class foreign universities are allowed to set up campuses in India -- this will help Indian institutions come up to global education standards.
The Bill should not lead to a situation where all types of foreign universities are allowed to set up campuses in India. The process for allowing these universities to set up their campuses needs to be absolutely transparent and objective-oriented without any biases -- otherwise, we will land up in the same situation as has happened with some approved private universities and institutions.
It is important that the foreign institutions entering India offer the same curriculum, quality of education and degrees that they provide in their own countries.
Some issues, such as regulatory framework to look into dual degrees and the portability of credits, have not been addressed in the Bill; hence, some guidelines on foreign institutions looking forward to partnership models will be a welcome move.
There are some apprehensions that the entry of such institutions may result in faculty members from top institutions and universities in India joining foreign institutions that may offer higher salaries.
There may be some mobility of faculty members, but the majority would prefer to continue with their present institutions -- most professors have opted for academics as a career by choice, they can never be lured by salaries in dollars. The right academic and research environment is important and it will take foreign universities years to set up institutes of excellence.
It is anticipated that once foreign universities set up campuses here, this will stop Indian students from going abroad to study -- according to Assocham, over 500,000 students go overseas every year for education and, in 2008-09, $2.25 billion was spent on this.
There are three sets of students who go abroad -- those who get admission in top universities because of their high academic credentials; those who cannot get admission in top institutions in India but can afford to go abroad and stay there, and the third are those who just want the foreign stamp.
In short, those who want to go abroad for higher education will go irrespective of foreign institutions setting up campuses in India. However, after the arrival of top universities, these institutions may be able to attract some good students if their fee is reasonable -- otherwise only those students will prefer to join such institutions who are not able to make it to the top Indian institutions/ universities.
In addition, there has been some concern over the Bill's provisions that allow foreign educational institutions to have their own admission processes and freedom to fix fees. This rule should be applicable to the Indian institutions also.
The government policy should ensure the same rules are applicable to Indian as well as foreign institutions. They should be gauged by the same yardstick. If the government allows foreign institutions to take out some reasonable surplus, the same rule should be applicable to private Indian institutions also.
Similarly, if the reservation policy is not applicable to foreign institutions, it should not be applicable to private Indian institutions also. The rules of the game have to be the same for all.
It is going to be tough for the government to raise gross enrolment ratio (GER) in higher education from the present level of around 12 per cent to 30 per cent by 2020. The government alone will not be able to achieve the GER target and, therefore, will require partnership both with Indian and foreign institutions.