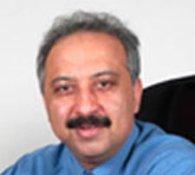 Coca-Cola's sports-loving CEO, Atul Singh says this is the strategy that has helped him steer the soft drinks giant out of various crises.
Given he hails from Kolkata, and from La Martiniere, choosing a venue for lunch was pretty easy - Oh Calcutta, the speciality chain that serves Bengali cuisine, to savour luchi (puris made of flour), kosha mangsho (meat prepared with freshly ground aromatic masala) and begun bhajha (brinjal cooked on slow fire in mustard oil).
For the uninitiated, generations of bhadralok Bengalis swear by this combination and eat it irrespective of whether it is for breakfast, lunch or dinner, writes Surajeet Das Gupta.

Singh apologises for being late, he was cutting a cake in his Gurgaon office to celebrate the success of Minute Maid Nimbu Fresh, which hit the one-million-case mark in just one-and-a-half months.
"The product is disappearing off the shelves and we cannot produce enough, so I had a small celebration with the 50-odd guys working on the project," he says with delight.
Celebrations and parties are part and parcel of Singh's regular schedule. He talks of how, of the potential senior women leaders identified for Coke across the globe, three are from India.
As we settle at a corner table booked for us, it does not take long to figure out that Singh is a revered guest here. The manager drops in to welcome him, as do most of the staff. He says he is a regular and doesn't miss out on the Saturday lunch unless work keeps him tied up.
A regular, he says we can go in for the buffet if we want to save time, but for the real thing, a good Bengali lunch, we should order à la carte - even the luchis taste different. I agree.
Those who work with him say Singh is a delegator and a people's person, and this has helped him in negotiating his way through Coke's worst crises in India.
He was handpicked from China in 2005 when Coke was hit by two major crises - Director of Centre for Science and Environment (CSE) Sunita Narain's allegation that colas contained pesticide residues, and the exit of (his predecessor) Sanjiv Gupta whose Rs 5-bottle Coke was a marketing disaster.
With the ordering out of the way and Diet Coke served on our table, I ask Singh what management style he adopted to get Coke out of the woods. He says his response was not very complicated - while everyone in Coke insisted the CSE allegations were incorrect, he said the public perception was different, that soft drink manufacturers were seen with suspicion and needed to find a solution.
There was, he says, an apprehension among managers and other employees that colas would not even sell, meeting targets seemed almost impossible.
Singh says his management philosophy is derived from the sporting arena - a passion with him. "I want to be a coach and not a playing captain, I am a generalist and an enabler and leave decisions to the specialists, but you need to interact with them constantly," he says with pride. Meanwhile, our food has arrived. We are served fried bhetkis and bhaja monger dal (fried dal).
I ask him to elaborate. Singh says the key factor which helped him combat the crises in Coke was his move to connect with his employees and delegate authority. So Singh called many of the key Indians who had left the country and worked for Coke in other countries to come back and join in. They were empowered to get the company going again.
He broke the bureaucratic stranglehold in the organisation which had a strict hierarchy imposed by his predecessors. Singh says he calls up people handling a particular task directly rather than going through his/her boss so he gets a ground-level view. And if the manager has an opinion different from his, he encourages them to go ahead, even when he thinks it won't work.
The freshly made hot luchis arrive with begun bhajha, and we decide to put aside our forks and spoons and use our hands instead - that enhances the taste. To make the begun spicier, I ask for some lal lanka (red chillies).
How does he keep in touch with all his employees? Once again, Singh says, you have to keep it simple. For instance, he introduced the "Weekend Funda" in which two four-litre bottles of Coke were sent to every employee at home. "The idea was that they must believe in the product and say hey its not unhealthy, my kids can drink it," he says.
He also began a system of meeting all colleagues for lunch or breakfast in small groups throughout the year to listen to their problems. He realised that if the office closed half an hour earlier, many employees could  reach home earlier by avoiding traffic jams. So, the office timings were rescheduled, and office began at 8.30 am instead of 9 am.
Singh says he then did something few companies bother about: training retailers. Through the mobile Coca-Cola University (a van with blackboards and seats) and other programmes, the company has trained 30,000 retailers on simple things which helps the company improve its overall sales.
The retailers, Singh says, are taught better merchandising methods, how to manage their cash better, how to display things to make them more attractive for consumers, and so on. This, he says, is yet another way to connect with the people who matter.
The specially spiced kosha mangsho arrives. A combination of this with luchi is the high point of Bengali cuisine. Singh says I haven't done justice to the meat, and takes all of what remains on the platter. So did he ever meet Sunita Narain, I ask. He smiles and says that a meeting was once arranged, but she backed out. Singh says he has no problem in meeting her any time.
After the waiter asks whether we want more Diet Coke, he serves the next specialty - daab chingri or prawns served within a tender coconut which includes some milk. This, I can say with pride, is my choice.
To whether he has won the cola war and consumers are back drinking it or they are moving to non-carbonated drinks, Singh says colas are again bagging 50 per cent of volumes; this had come down to 45 per cent during the campaign that was launched by Narain.
The delectable prawns are served and this time I do justice to them - after Singh has had his helping, I take whatever is left. Singh does not show the same enthusiasm for the prawns as he does for the luchi and meat. We switch to his great support for sports.
A closet fan of Sourav Ganguly and of course Kolkata Knight Riders (KKR), he has done his bit with having Sprite sponsor the team. Like most others from Bengal, he lives in hope the team will do well next year in the Indian Premier League.
But Singh fondly remembers 1969 when, as a boy, he went to Eden Gardens to watch the India-Australia match. It was his first visit to this amazing ground and the crowd, and even today, he says, he cannot forget this. For him, his second-greatest moment was to see Pele playing in Kolkata for Cosmos Club against Mohun Bagan.
We have finished lunch and it's time to move on to dessert. Once again, we choose something that only Oh Calcutta serves across Delhi - nolun gurer ice cream (ice cream made out of palm jaggery). Though we're full, we order individual portions since there's always enough place for an ice cream.
So what does he do in his spare time - is he a voracious reader; does he like going places or watching movies, I enquire. Singh is honest enough to says books and he don't really go together - he lives on Archie comics and that is the best he can read. But he loves surfing channels, watching the news and, of course, seeing historical places. So, whenever he is on tour, he tries to get some time off to see historical sites if possible. And the movie Gandhi, he says, made quite an impression on him.
I get the bill and Singh has a couple of appointments for which he is running late. And as we bid goodbye, Singh looks a satisfied man, surely with the food, if not with the interview.