Successful economic reforms should ideally result in liaison officers losing both their relevance and jobs, writes A K Bhattacharya.
Successful economic reforms should ideally result in liaison officers losing both their relevance and jobs. If reforms make headway, the government frames economic policies transparently and puts in place rules that leave little scope for discretion. In such an ideal post-reforms scenario, what meaningful role can a liaison officer play?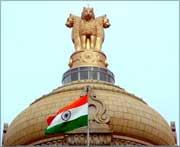 This is what happened after the P V Narasimha Rao government initiated economic reforms in 1991. Before such reforms, liaison officers of all hues would frequent the corridors of Udyog Bhavan, North Block and several other Bhavans in New Delhi where central ministers and their senior officials have their offices.
Indeed, liaison officers during the 1970s and 1980s would spend a better part of their day in these corridors, trying to meet an officer or his deputy to make sure the approval needed for imports or a project went through smoothly without any delay.
Even large industrial houses would post a senior person in New Delhi. That senior officer would not have much work to do. He would be required primarily to keep an eye on what all was happening in the government, at what stage of the government approval process were the various proposals submitted by the company and which important official was being transferred out of the industry ministry and who he was being replaced with.
Periodically, he would also be entertaining senior government officials in a bid to influence policy that might affect his company.
All that changed after 1991. Liaison officers no longer saw the need to keep an eye on what the government was doing. Consequently, they lost their own relevance and importance within the companies where they worked. Many companies did away with the practice of keeping liaison men on their rolls.
Yes, a few companies continued to keep an entire unit of liaison officers whose job was not only to track what the government was doing with their proposals, but also proposals from other companies, including rivals. However, in general, the role and relevance of liaison officers declined considerably after economic reforms in 1991.
Industry associations and chambers of commerce also became unabashed votaries of reforms. Instead of submitting lists of specific concessions in policy that would often help a few industrial houses or companies, these industry associations began pleading for speeding up economic liberalisation so that Indian industry could realise its latent potential for achieving higher growth.
The few liaison officers these chambers had on their rolls also changed the style of operation. They too began clamouring for more reforms, more transparent policies and easier imports.
Even as liaison officers lost their relevance and industry associations reoriented their method of lobbying the government, companies realised that they still needed somebody to talk about their concerns and need for policy changes. They did not require liaison officers. Nor did industry associations need to lobby the government for specific concessions.
But companies saw the need for a communication channel with the government. It is this opportunity that public relation firms saw and promptly grabbed. Liaison officers were gone, but soon PR lobbyists with a different style of functioning replaced them.
The functioning style of PR lobbyists had to be different because the character of the government had changed post-reforms. There was no need for effecting a change in the import policy or an increase in the excise duty or import tariff.
There was need to influence the regulatory environment. This meant lobbying the government was no longer required. Regulatory bodies had become important. Companies needed to lobby these new regulators to make sure their business goals were not undermined by sudden policy initiatives.
The formation of coalition governments at the Centre also meant political leaders belonging to coalition partners held some important ministerial portfolios. Those ministers from junior coalition partners would owe their allegiance not to the prime minister of the day, but to the head of the political party to which the minister belonged.
This was true during the Atal Bihari Vajpayee regime and is true of the present government run by Manmohan Singh. Murasoli Maran in the Vajpayee government had his own agenda, just as A Raja in the Singh government has his own.
In such a scenario, companies and industrial houses feel a greater need for lobbyists to make sure that their business interests are protected. In a single party rule at the Centre, companies could manage their affairs without a major problem, since it was a question of keeping only one political party happy.
But in a coalition government, the challenges of keeping many forces under control become daunting. It is then that PR lobbyists are called in to play a role to appease different forces.
If PR lobbyists, or liaison officers in a different garb, have made a comeback in a big way, it is time to check if the economic reforms in this country have not grown deep enough roots and if governance norms need to be strengthened to ensure coalition partners at the Centre behave more responsibly.