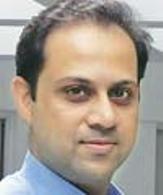 The huge glass-panelled window on the 13th floor of NCPA Apartments at Nariman Point offers a breathtaking view of the bay and Malabar Hill - home to another set of Mumbai's rich and famous. But Sanjiv Bajaj prefers his other home at Akurdi near Pune where life is relatively unhurried, write Shyamal Majumdar and Sumit Sharma.
We are at the Bajaj family apartment in India's most expensive residential block - one of the flats was sold two years ago at Rs 1.35 lakh a square foot.
The 41-year-old managing director of Bajaj Finserv isn't impressed by the common perception that a financial services company should be based in Mumbai rather than Pune.
The youngest son of Rahul Bajaj who took charge of the financial services business after the demerger of Bajaj Auto three years ago, makes it clear that Pune is where his heart is and he would rather listen to his heart.
"In any case, if Warren Buffett can operate from Omaha, the top brass of Bajaj Finserve can easily operate from Pune," he says, before ordering breakfast.
Sanjiv had explored two other options for the breakfast venue - the Trident hotel next door and Bajaj Bhawan, a couple of buildings away - but settled for his residence saying the ambience would be more informal.
While we wait for the food to arrive, we ask him about the speculation that he was a reluctant entrant to financial services after the demerger. "It was my decision to move to financial services," he corrects us.
He has no reason to regret the decision since his financial services empire now spans life and general insurance in association with Allianz and consumer lending through Bajaj Finance. Next month, there's a foray into wealth management planned, and an asset management company is awaiting approval from the market regulator.
Sanjiv also wants Bajaj Finance to make it big in loans against shares and property, personal loans and lending to small and medium enterprises, a sensible way to hedge risks during a slowdown.
But his two favourite words these days are "financial inclusion". That's understandable since Bajaj Finserve is keen to apply for a banking licence, and the central bank is keenly focusing on leveraging new licensees to bring the un-banked population under the banking ambit.   
As the steaming hot poha and cheese sandwiches arrive from the adjoining kitchen, Sanjiv talks passionately about his company's initiative to provide hassle-free credit for two-wheelers in rural and semi-urban areas — a business that contributes 40 per cent to Bajaj Finance's loan portfolio.
"For public sector banks, financing two-wheelers is a non-priority area; for private banks, these customers are non-bankable. Good luck to them, but for us, it is a profitable business," Sanjiv says.
Most of these customers have no bank accounts to pay their monthly instalments or EMIs. So, Bajaj Finance decided to collect the EMI in cash at authorised Bajaj Auto service franchisees. The service centres collect cash by generating a receipt using a mobile phone.
The entire set-up costs less than Rs 10,000. As and when a receipt is generated, the company's central server gets updated and the customer account is credited immediately.
Sanjiv says the direct cash collection model operates in over 1,000 outlets across India and 10,000 new customers are added every month. The company, which taps regional transport offices to meet limited know-your-customer norms, collects over Rs 25 crore as EMI every month using this low-cost technology. It follows the same model in insurance.
Despite the retail-led model, Bajaj Finserve has been able to keep its bad debt in check, says the six-foot-plus former state basketball player who still manages to keep trim by hitting the swimming pool, and gym and doing yoga.
"Retail is our mantra. If you go to even small towns, you'll find only LIC and Bajaj,'' Sanjiv says proudly. About 65 per cent of the company's business comes from outside the top 30 cities.
From April 1, the company also started offering loans (ticket size of Rs 50 lakh to Rs 10 crore) against securities in seven markets. Bajaj Finance has a loan book size of over Rs 5,000 crore (Rs 50 billion), which it planned to raise to Rs 10,000 crore (Rs 100 billion) over the next 18 months or so.
Besides its own branches, it also delivers consumer loans through 2,000 retail chains across India, using the credit information bureau data to generate credit assessments to potential loan applicants "within five minutes".
Predictably, the wealth management company will also focus on retail customers, with a minimum Rs 1,00,000 to help individuals plan for their future, in a manner similar to what Merrill Lynch did for ordinary Americans in the US almost a century back. It plans to start initially from Pune, Aurangabad, Ludhiana and Chandigarh and expand to 20 tier-one and tier-two cities within the next two years.
The poha and the cheese sandwiches can beat any standard five-star fare and Sanjiv nods his appreciation to the attendant.
With so much on his plate as far as business ventures are concerned, what has happened to his much-publicised work-life balance?
Sanjiv says he still makes it a point to come home by 6.30 p.m. and spend time with his children and wife. "At least, I found enough time for a love marriage," he laughs and recounts how his parents and in-laws decided to reduce the zooming telephone bills between Mumbai (where his future wife was based) and Pune by getting them married.
He loves movies and goes multiplex-hopping to catch a Tom Cruise or Bachchan film.
Does he take advice from his brother Rajiv who heads Bajaj Auto? "We meet once in a while. In any case, we are on each other's boards," is the reply. Rajiv has moved to his own house in the city while Sanjiv stays with his parents at Akurdi.
It's difficult not to notice the difference in work approach between the two brothers. Rajiv hates mobile phones and barely uses computers, writing his appointments copiously into a small diary, Sanjiv is a self-confessed gizmo freak.
Doesn't he miss his initial days at Bajaj Auto? Sanjiv says he has moved on in life out of the backroom of the auto company and on to the centre stage of a completely different portfolio of business. But he does miss some of his early experiences at Bajaj Auto where he had joined after taking his mechanical engineering degree from Pune and later from the University of Warwick in the UK.
As the coffee arrives, Sanjiv relaxes a bit and talks about his "glorious" days at Harvard where he did a two-year MBA programme. In two years, he ran through 700 case studies based on situations that global companies faced.
What made it particularly tough was that he had to come up with solutions to three case studies every day, forcing him to take quick decisions. And there were 89 other students out to demolish his solution. "The learning process was simply out of the world," he says.
But the best teacher has, of course, been his father who made sure that his childrens' feet were always firmly on the ground. Sanjiv and his siblings went to the same school to which many Bajaj Auto employees sent their children.
He remembers how his father forced them to walk to school after they deliberately missed the school bus in the hope of getting a lift in the family Ambassador.  "We neither expected nor got any extra perks those days for having a Bajaj surname." Sanjiv says, as he walks us to the lift.
The generous perks of being Rahul Bajaj's son came much later in life.