Stagnant defence expenditure in India and set back to modernisation would be music to the ears of India's neighbours, writes Colonel (Dr.)  Anil Athale (Retd.).
An economist daughter of mine (Gold medallist to boot) often used to tell me that Economics is mumbo-jumbo and basically common sense made difficult. Since I do claim to have common sense and an abiding interest in our safety and security, I am venturing in an area outside my core competence. Yes, the allocations for defence are static and in fact below last year's if we take inflation into account. But why the alarm bells ought to ring?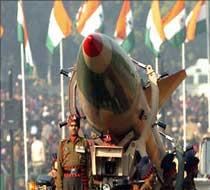 Let us first look at the crude numbers. Last year, when there was a huge payout due to the Sixth Pay Commission arrears, the total defence allocations was Rs 147, 344 crore (Rs 1473.44 billion). Out of which the capital expenditure was Rs 54,824 crore (Rs 548.24 billion).
As is the (dismal) practice, Rs 7000 crore (Rs 70 billion) were returned unspent. The rest of the Budget was spent on pay and allowances, which remain more or less constant. This year the allocation is Rs 147,344 crore (Rs 1,473.44 billion) and out of this Rs 60,000 crore (Rs 600 billion) is capital expenditure.
If we count the unspent amount of last years Budget then in real terms the capital budget is Rs 53,000 crore (Rs 530 billion). Much less than last year's allocation. If we assume inflation of around 10 per cent then the 'real' amount for capital expenditure is around Rs 45,000 crore (Rs 450 billion). In simple terms the money provided for modernisation and re-equipment has reduced. This would have been alright in normal times. But are we living in 'normal' times?
Threat scenario
This reduction in spending has come at time when the situation in our neighbourhood is explosive. The American surge in Afghanistan and subsequent planned pull out by 2012 (in time for re-election of President Barack Obama) can have unforeseen consequences for us.
On the one hand, under the guise of fighting the Taliban, Pakistani forces are yet again being lavishly equipped by the Americans. On the other hand Pakistan remains focussed on India and Kashmir. There is every likelihood that the year 2012 may see a pro-Pak Taliban regime in Afghanistan.
Assured of its strategic depth, awash with latest weapons and overconfident of its ability, a rejuvenated Pakistan will certainly mount a major effort to 'solve' Kashmir issue to its satisfaction (meaning annexation of Kashmir with Pakistan). The contours of  this aggressive Pakistan are already visible in open Anti India rallies being held in Pakistan.
On the Eastern side, the Chinese have been unusually aggressive on Arunachal Pradesh. To compound our woes, the Maoists have upped their ante and (General) P Chidambaram seems all at sea. Let us not forget that in the 1970s the Naxalite menace was NOT tackled by the Para Military forces but by two divisions of regular army. Today the threat is much more extensive and dangerous. Whatever the reluctance of the army at present, it is very much conceivable that it will be involved in anti-Maoist operations.
State of the armed forces
Some time ago the outgoing Naval Chief made a statement that India is in no position to take on China. He was hauled over coals by the ignorant media when he made a frank statement. Behind the Naval Chiefs assertion was the stark fact that our submarine fleet is now over 40 years old and many boats have to be soon scrapped.
The Air Force vice chief went on record to draw attention to the depleted strength of the fighters. In place of sanctioned 45 squadrons, we are left with only 39 now. The other day Army Chief admitted that our tanks do not have night fighting capability.
In the backdrop of developing threats the armed forces are woefully equipped. Modernisation and induction of new equipment takes time. The time to give it a major push in view of the impending dangers lurking in future was NOW. But the budget allocation does not reflect this sentiment. In 1962 we had seen the spectacle of brand new SLR rifles being airdropped to the troops, who had never handled them. The Chinese gleefully took them over.
Obviously the failure is that  of the Ministry of Defence  in not projecting its demands. Has the disarray at the top echelons been responsible for it? Are we seeing the shades of Krishna Memon? For the sake of the country one hopes not.
Stagnant defence expenditure in India and set back to modernisation would be music to the ears of Gen Kayani and Hu Jin Tao. One saw the newly found cockiness of the Pakistanis in just concluded talks in Delhi.
What surprises one is that such a veteran ex defence and foreign minister like the able Pranabda has done this?