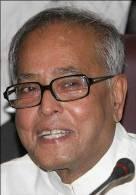 When I was growing up in India, we used the word 'captain' to refer to someone who was in charge of navigating a ship through stormy seas. So, when I first heard the term 'captains of industry', I was a little puzzled.
But, having been the Finance Minister of India, I realise that the global economy can be as stormy as any sea. In fact, very often, it feels like a Tsunami.
Anybody who tries to navigate his or her corporation through the global economy is, therefore, rightly called a captain.
As you - being captains of industry - know, and I - as captain of a national economy - know, the world is going through a very difficult phase. The world has recently begun to come out of the great recession.
What started as a sub-prime crisis in 2007-2008, became a financial crisis that affected banks and private corporations. And then it spread to the real economy. Governments around the world rallied to protect banks and corporations.
Unfortunately, now some of the governments themselves seem to have got infected. I am referring to the difficult sovereign debt situation that our friends in Europe are facing today.
Economists used to tell us last year that the global economy will make a V-shaped recovery. That is, it will turnaround very quickly. Then, I was told that it will be U-shaped recovery, meaning that it will stay at the bottom a little longer before recovering. Recently, with the risk of a new crisis in Europe, experts are saying that it may be a W-shaped recovery.
Frankly, I am beginning to feel that for every alphabet in the English language, there is a theory of recovery. What so many competing theories of recovery mean is that we really do not know the answer. There is uncertainty concerning which way the global economy will go. We - be it the corporations or governments - have to be careful and vigilant.
Fortunately, for India, the recovery seems to be on a surer footing. Last quarter, our GDP grew at 8.6 per cent and this year my ministry has predicted a growth rate of 8.5 per cent. I notice that the IMF has recently challenged our prediction.
For once, however, I am not going to argue with the IMF. The IMF believes that the Indian economy will grow by 8.8 per cent!
Standard economic theory teaches us that high savings and investment rates are essential for a nation to grow fast. We in India used to watch with envy how the East Asian super-performers saved and invested over 30 per cent of their GDP.
What many observers do not know is that, from 2003, India has broken into this high-growth circle. We now save and invest around 34 per cent of our GDP.
At this opportune moment, India offers investment opportunities in excess of $850 billion over the next five years. In the infrastructure sector, we envisage investment at $1 trillion between 2012-13 and 2016-17, with a potential funding gap of 25-30 per cent bridged through innovative modes of financing.
We in India are also working to make our government more efficient, transparent, and in step with the modern world. As you no doubt know, we are in the process of a major reform of our direct and indirect tax systems.
Our draft Direct Tax Code is now available on the web. We have sought comments and suggestions from all stake-holders. I have also made a commitment to bring down the public debt as percentage of GDP from the current level of around 75 per cent to below 68 per cent in three years.
I am aware that, as captains of industry, you will have a major focus on profits. I am sure you are equally aware that, as a politician, I have to keep a watch on votes. But, at the same time, all of us must have ambitions that go beyond these.
(Excerpts from Finance Minister Pranab Mukherjee's opening remarks at the INDIA-US CEOs Forum meeting on June 22)