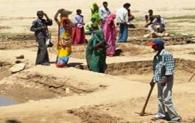 The Tamil Nadu development formula makes programmes like the NREGS work through simple but top-down solutions, says Sreelatha Menon.
Tamil Nadu seems to have a solution to each and every problem related to implementing development schemes, even the tough ones like the National Rural Employment Guarantee Scheme (NREGS).
The state's solutions are as simple as curd rice, and without the technological inputs that spice up the development strategies of the neighbouring state, Andhra Pradesh.
Here are some examples of how the state deals with NREGS bottlenecks.
Problem one: Sarpanches have been thwarting social audits in various states.
Solution: Dismiss the panchayat, this is what we will do in our state, says S Nagarajan, additional director, rural development department.
Problem two: States are in a fix on how to best determine the amount of money to be paid to workers under the scheme. While some say minimum wages should be paid to all workers, others say the money paid should depend on the work done. But most states don't have the people to measure the work done.
Solution: An NREGS official has been appointed for every village. He allots the work to be done by each worker in the morning. The workers do the work and collect wages. As for staff shortage, Nagarajan says you can't have an Indian Penal Code without appointing a police force to implement it.
Problem three: Workers have been struggling even to get two days of work in a year from sarpanches. There is also the issue of what work can be done. Should there be planners to advise the villagers?
Solution: Tamil Nadu has selected five types of works under NREGS and each work costs less than Rs 3 lakh. This ensures 30 days work in every village in the state and leaves little scope for non-compliance or local planning. Timely payments are ensured through an NREGS worker in every village. He reports the number of workers at the site through an SMS to the block office by 11 am. Supervision is done on weekends and payments made in a week.
Problem four: States use 40 per cent of the money to buy materials such as cement and sand and 60 per cent to pay wages. Often, a lot of money goes into materials, which paves the way for hiring of contractors to run the scheme. Tamil Nadu has done away with materials. The most novel thing that has happened to enable quick payments is states depositing wages in banks and postal accounts.
Here, Tamil Nadu has decided to tread a lonely path and yet claims to pay within a week. All workers have bank accounts, but only delayed payments are credited in these accounts. Otherwise, workers are paid in cash. The reason, Nagarajan says, is that bank accounts make payments more expensive and not feasible.
There is a price for not being corrupt. But it should not exceed the losses through corruption, he says.
Tamil Nadu, which has implemented the public distribution system and the anganwadi scheme better than any state in the country, except may be Kerala, is not impressed by the success stories of neighbouring Andhra Pradesh.
Rural Development Secretary B K Sinha recently talked about replicating the Andhra model of NREGS in the country. Nagarajan's response was: We will oppose this.
Another secret of the Tamil success story?