N Chandrasekaran formally took over the reins on Tuesday of India's largest information technology services firm, Tata Consultancy Services, as chief executive officer and managing director. One of the youngest CEOs among the Tata Group, he takes charge when Indian IT services are going through a rough patch, owing to the global meltdown.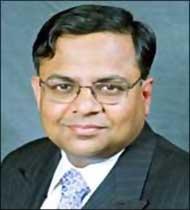 In an interaction with the media, Chandra said the current revenue of $6 billion is an achievement, but saw it as just 1 per cent of the overall IT services technology spend. He also spoke on leveraging the capabilities of 140,000 TCSers to make it a bigger and better firm. Excerpts:
What will be your strategy, going ahead?
The focus we have had so far has worked and we continue to pursue that. With a strong customer base, we will continue to focus on customer-centric services, offer integrated full services, a global delivery model, tap emerging markets and increase our non-linear capabilities.
So, the strategy and focus is the same: we will keep tweaking it, as and when the market changes. Our task is to leverage all the strength and make TCS a bigger and better firm.
In terms of tools and non-linear growth, apart from investing in research and development, we have set up a component framework factory, where we are developing applications for each every industry vertical. Other than this, we have created platform-based solutions as a separate group and already have four platforms.
Moreover, we will open the taps for investment whenever required. We will also look at acquisition but it will not be just to add revenue but something that will add capabilities.
TCS had a target to be a $10-billion firm. Have you given any target to yourself in terms of the company's growth?
In a few days time, we will have a vision statement but it will not be about numbers.
Despite being the largest IT firm in terms of revenue, Infosys have attracted a higher valuation. Comments...
I can only say that in terms of valuation, we would want to get the right stock price. We have listened to shareholders and the investor community, and brought in more transparency, as well as other changes. Apart from this, we will continue to focus on delivery and investing in hiring more people.
While TCS entered the Latin America and China markets at the same time, the latter has not scaled to the proportion of Latin America. How do you plan to grow in this region?
I agree that we have scaled in Latin America quite well. But then, Latin America consists of so many countries like Chile, Brazil, etc and each of these have a growing local market, and we have been successful in capturing a number of key clients in this market.
In China also, our strategy remains the same. Yes, China has taken longer than other markets to grow. We have won two major clients in the Chinese market and since we have a reference base, we will start taking our services in a renewed way.
Other than the economic slowdown, the global IT environment is undergoing consolidation. For instance, the Dell-Perot deal or the Xerox-ACS bid. How does TCS plan to take on this?
It depends on each company and what strategy they adopt to tackle this. We are focusing on our global delivery capabilities and investing in creating new services and entering new business models like component and framework solutions.
We are also scaling each of our centres and building our relation with some of the local clients in the emerging markets. Apart from this, we are creating centres in markets like the US. For the US markets, we have already divided the workforce into two teams - one will focus on healthcare and the other on the government vertical.