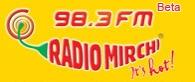 Radio Mirchi, along with its alliances, has retained its number one position in the Indian FM radio industry, with a 46.5-million listenership according to Indian Readership Survey (IRS) 2009.
In an interview with K Rajani Kanth, Prashant Panday, chief executive of FM radio (also senior vice-president of the Association of Radio Operators for India (AROI) and chairman of the Ficci Radio Forum) shares his views on the industry. Edited excerpts:
Radio Mirchi recently said it would not participate in the bidding process for Phase-III licensing unless the music royalty issue is sorted out...
Right now, music royalty in our country is an extremely problematic policy. So, if we were to go to any small town, we have to pay as much as Rs 50 lakh every year towards music royalty, which is an unviable equation. Therefore, we made a categorical statement that if music royalty is not corrected, then we will not bid as there is no chance of making any money.
Worldwide, music royalty is often charged as a percentage of the revenues generated. Usually, it is in the range of 3 to 4 per cent of the revenues. And, this is in a market where radio is fully developed like in the US, Europe and South Africa. In India, radio is still a much smaller medium and, therefore, we are asking the music industry to charge us 1 or 2 per cent of our revenues. However, they are not ready for this.
How much does the Indian radio industry shell out as royalty?
At present, the Indian radio industry shells out Rs 125 crore (Rs 1.25 billion) every year in music royalty alone. And, if you apply 2 or 3 per cent of our revenues, then the royalty should have been Rs 12-14 crore (Rs 120-140 million). So, we are actually paying Rs 110 crore extra in music royalty every year, which is why the music industry is not willing to find a solution to this very quickly.
If the music royalty is reduced by Rs 100 crore (Rs 1 billion), I think many of the FM radio stations in the country could be very viable. Or else, they will be forced to shutdown.
Did the two industry bodies - AROI and Ficci Radio Forum - make any representations?
The radio industry is being forced to be unviable and we all are bleeding. Both these bodies have interacted with the government on behalf of the radio industry.
We have also made a request to the Ministry of Information and Broadcasting if they can extend the period of licence from 10 years to 15 years. We are also asking the HRD ministry to bring some kind of pressure on the music industry and make them come to the negotiation table.
What's the way forward for Radio Mirchi?
Going forward, in the next 12 months, we will certainly be looking at innovation in the sphere of music, experimentation with more types of music and with more onground activities. We plan to double that effort (onground). And hopefully, if Phase-III will come, then we will be able to do some expansion of our network, assuming that the music royalty issue is sorted out by then. For the Times Group, Radio Mirchi is an important business.
We reported revenues of Rs 229 crore (Rs 2.29 billion) in FY09 and I cannot talk about any projections as we are in a silent period right now. Election advertisements and advertising inventory expansion were significant, and these two will be the two big growth drivers for us this year.