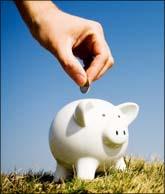 Mrs Iyer watched from the bench her husband swing and perfect a putt on the golf course. Her thoughts went back 32 years when they had just come back from their honeymoon. Her father-in-law sat them down and had a chat that changed their life. . . or should we say, put their life on track.
Both Raghu Iyer and Radha had been classmates at IIM Calcutta and had married couple of years after they had passed out. They had high flying corporate jobs and were earning handsome salaries. Their background and the position required them to maintain a certain standard of living and they did.
Young, enthusiastic and full of energy they were the 'work-hard party-hard' type of people and loved it that way.
Raghu had an inkling as to what his father was about to say that evening. Appa was a disciplined man and had a certain way with everything. Now, he would ask them to take stock and live a more sober life which meant cutting down on their wardrobe spending, lesser partying, they will have to travel economy and avoid going on a shopping sprees on impulse.
This whole planning for the rainy day thing was boring and budgeting was something they hated to do. Actually Raghu didn't know of a single person who loved budgeting. So they dreaded the meeting.
But that evening, Raghu's father told them just one thing that let them live life king size then and now. Initially for the first few months it was a bit tough, but things started falling in place quickly. Then came the children -- twins -- and Radha was forced to quit full time work. This was a conscious decision; however, it did impact their cash flows. But they still went ahead and bought the house they had identified and upgraded their Maruti 800 too.
Their annual vacations were sacrosanct and it provided both the Iyers and the children exposure to different parts of the world.
Relatives and friends envied them but took solace in the thought that with this kind of lifestyle, the Iyers would have to compromise on their long term and retirement savings and would be reduced to be dependents on their children when they grow old.
The children did well and went abroad. Raghu retired early at 55, took up the cause of rural education and nurtures his passion for golf. The Iyers are well settled and would comfortably see through their twilight years in each other's company. Relatives and friends are still envious of them.
The Iyers had taken their father's advice seriously and saw to it that their and the children's future was well taken care of. Radha smiled at the thought of her father-in-law's words that defining moment. It sounded ridiculously simple then but now it seems profound: 'Religiously put aside 30 per cent of your earnings into carefully chosen investments. Spend the rest of the money, the way you want and please.'
It was so simply said, so straightforward yet the Iyers decided to carefully implement it.
The Iyers had a simple formula -- If they earned Rs 100 whether Raghu's salary or Radha's freelance income Rs 30.00 went towards investments. Of this -- Rs 10 went into long-term saving, Rs 10 went to short-term (1-2 years) needs and Rs 10 went to build an emergency corpus.
After a couple of years they had created an emergency corpus which enabled them to start investing that Rs 10 for their children. They adjusted their life around living with Rs 70.00.
The short-term investments provided for their holidays and indulgences and the children had a reasonable sum of money in their accounts when they went to college.
Of course, a student loan was inevitable but that was still fine. And needless to say the Rs 10.00 invested every month for the past 30 years in equities and fixed deposits were a decent corpus when Raghu turned 55.
However in this the magical secret was three things:
Passivity: They mindlessly took away Rs 30 from every Rs 100 and never meddled with their investments.
All incremental income, annual bonuses or performance incentives followed the same pattern of 30% being invested -- 70% being spent.
And there arose no particular need to withdraw from their long-term savings because they had emergency cash, were comfortably insured and planned their fantasy spending plans.
The Iyers are happy people but are a bit shy to share this learning with youngsters. Question them about it and they simply say: 'The lesson is just spend less than you earn and pay yourself first."