A recent directive from RBI makes it mandatory to have an additional authentication pass code verified by VISA or MSC (Master Secure Code) mandatory, says Bienu Vaghela.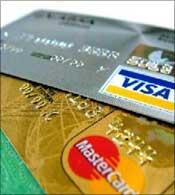 A recent directive from RBI makes it mandatory to have an additional authentication pass code verified by VISA or MSC (Master Secure Code) mandatory. This is over and above what is visible on your card. This is in effect from August 1, 2009 onwards. 
Let's see what all it entails for the banks, customers and e-commerce players Indeed, it means extra security for customers, thus making online shopping safer. For banks, it is extra security blanket to curb misuse of card while shopping on line.
So all you shopaholics, watch out! Come August 1 and you make an online transaction, you will have to enter this additional password given by the merchant. This is commonly known as VBV - Verified by Visa or MSC - MasterCard SecureCode.

This additional security will known only to the card holder so in case even if someone takes your card number he will not be able to use it online for the want of PIN.
A call to HDFC bank's call center revealed that they already have system called NetSafe in place which generates a code which can be used only one time, besides there is virtual key board that enhances the security if one is shopping from public PC.

The directive also mandates a system of online alerts to the card holder for all 'Card not Present' transactions if it exceeds the amount of Rs 5,000. The circular adds that banks would be penalised for non-adherence to the directive under the Payment and Settlement Systems Act 2007. So the next question is how all this is going to function?
The bank official informed that once the card is activated after the verification by Visa/ Master Secure service, your card number will be recognised whenever you make an electronic payment.

After you provide your credit card details online, you will be redirected to your issuer website and then required to specify your Verified by Visa / Master Secure authentication details.

Your identity will be verified, and the transaction will be completed. Based on the authentication provided by your issuer, the transaction will be processed and you will get a confirmation.
According to HSBC Bank, any online purchase made with a registered merchant will be declined if you have not yet registered the card. HSBC, however, will exceptionally process the payment through a secure conditional authentication upon successful verification of customer's personal information.
SBI Cards only processes transactions that are verified  by a separate password. It went live with these measures on July 1. However, customers have been given some leeway and can do up to three transactions without a password. 

Most foreign lenders including Citibank already require customers to have an I-PIN before they can use their credit cards to transact online. The additional security blanket provided by RBI will certainly help in curbing online frauds.
Besides, as an online shopholic, you should take few more measures to make your shopping more enjoyable like keeping your computer secure and the access to it, avoid sending credit card or account details by e-mail, reject any email that asks you to follow a link to website and input account details for verification even if the website looks authentic and make sure you log out of your online account when finished - especially at work and net cafes. Most banks are offering this facility online.
The author is editor, ApnaPaisa.com