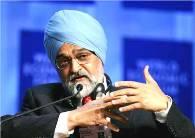 The Planning Commission on Monday said the fiscal deficit, the difference between total revenue and expenditure, will not exceed the budgetary estimate of 6.8 per cent of gross domestic product (GDP).
"I don't think there is any reason to think that 6.8 per cent will be crossed," Planning Commission Deputy chairman Montek Singh Ahluwalia said when asked whether the fiscal deficit target would be breached because of falling revenue and rising expenditure to combat the impact of drought as well as global meltdown.
Noting that the deficit is dependent on many factors, he said, "Whatever happens...one (additional  expenditure) can get offset by (savings on) other items. As of now we are not changing the estimate (of 6.8 per cent fiscal deficit)."
Finance Minister Pranab Mukherjee, in the Budget for 2009-10, pegged the fiscal deficit target at 6.8 per cent of the GDP, up from 6.2 per cent in the previous fiscal.
Fiscal deficit, shortfall in resources for funding government expenditure, is an indicator of its borrowing.
During the current fiscal, the government had decided to borrow Rs 4.5 lakh crore from the market, up from Rs 3.1 lakh crore in 2008-09. A higher fiscal deficit would mean taking more loans from banks at the cost of industry and other borrowers.