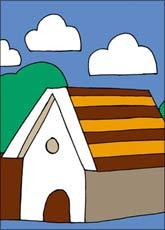 After a lull in real estate activity for over a year, the industry seems to be finally finding its ground. The much-needed price corrections have occurred and with the economy slowly, but steadily, looking up, builders and developers have reason to rejoice.
And, if you are planning to buy a house right now, you have reason to rejoice too.
With the real estate market undergoing significant correction and developers turning to the affordable housing segment, construction activity is slowly picking up momentum, thus infusing renewed optimism among SME players.
Small and mid-sized developers and property dealers are optimistic about witnessing an increased demand in the low-cost and mid-market residential and commercial segments in the near term.
For buyers, the scenario is interesting, too. Banks are offering home loans at lower rates, and prices are looking realistic again. It is now a buyer's market, allowing more transparency and better quality in deals.
The focus for builders has changed from lavish apartments and bungalows to affordable housing for lower income groups, middle class and upper middle class families. This has opened up an entire new segment for builders, who previously targeted higher income groups.
However, these homes may come sans the perks that were earlier available and suffer from a 'square feet' cut as well in terms of the house layout.
However, all is not hunky-dory, as yet. Mobilizing capital is still an issue for developers, and rising costs of raw materials is a matter of concern.
Rising input costs of steel, iron and building material has made unviable for builders to construct properties at agreed prices. As a result, there may be a delay in project completion leading to financial constraints.
Many residential buyers, too, are waiting a price correction before buying a property, which can affect development plans of builders.
So real estate players may continue to face liquidity concerns in future due to rising costs and unfavorable stock market conditions for further capital-raising.
Only those players who have achieved substantial revenues from past deals could expect to rise against the tide. But the scenario may worsen if the upcoming properties are not sold off as it may lead to a financial crisis in the property market.
The way to stability for the sector would require a stimulus package from the government, coupled with banks restructuring loans to builders and developers.
Yet, with the economy looking better, it could indeed usher in a new era where supply and demand are supplemented by realistic and affordable costs.
For those planning on buying a house, it is the best time to start looking around and negotiating. Considering that banks are floating new schemes to fund home buyers, you can shop around for loans that give you the best deal.
Builders will readily throw in the parking slot, or additional amenities as freebies if you insist. Remember, in today's economy, the customer is King!