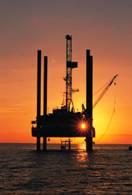 The growth of six core infrastructure industries eased to 1.8 per cent in July, the lowest this fiscal, as petroleum refinery acted as a drag on the sector.
A 14.4 per cent contraction in petroleum refinery products constricted expansion of the six key industries in July, against 5.1 per cent a year ago.
The core sector, which comprises petroleum refinery, crude oil, coal, electricity, cement and finished steel and accounts for 26.68 per cent in the country's industrial production, had grown by 6.8 per cent in June and had then raised hopes of industrial recovery.
Crude oil, though at lower rates, dipped by 0.4 per cent in July against minus three per cent a year ago. However, coal expanded by 9.7 per cent against 5.5 per cent, electricity by 3.3 per cent as compared to 4.5 per cent, cement by 10.6 per cent as against 5.5 per cent and finished steel by 1.2 per cent as against 6 per cent.
However, thanks to better showing in the previous three months, core industries improved performance by 4.1 per cent for April-July period, against the corresponding months in the last fiscal.