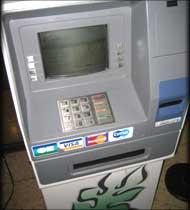 You are an account holder of ICICI Bank and have withdrawn cash from HDFC Bank's ATM without any charge. Isn't it great? No need to look out for the ATMs of your bank. Just go to any ATM of any bank and withdraw money without paying anything.
Ofcourse as on date you can still do that but not with as much freedom and abandon! Why? RBI has now put a withdrawal limit of Rs.10,000  per transaction and restricted the number of such free ATM usage transactions to  about five times a month. This has been done in response to IBA recommendations as the earlier RBI mandate did not fare well for the banks. Heres why:
History of free ATM usage
Before April 1, 2009, if you had to use the ATM of any bank with whom you don't have any banking relationship, you ended up paying fees. It meant you had to find the closest ATM belonging to your bank to withdraw cash and make balance inquiries. So RBI introduced a directive to the banks to allow free use of ATM machines irrespective of which bank a customer had accounts with.
This meant that irrespective of which bank you bank with, you could use any other bank's ATM free of cost. However the banks were only to charge for the cash withdrawal made by the customers by using their credit cards, while cash withdrawal on debit card was made free. So with effect from April 1, 2009, you could withdraw cash from any ATM free of charge.
Banks make a loss
However, this has not worked out in the favour of banks. Earlier when the use of ATM was not free, the interchange fee was borne by the customers. This fee covered the expenses incurred by both the concerned banks when a customer from bank A used the ATM of bank B. This meant bank A paid an interchange fee of Rs 18 to Rs 20 to bank B per transaction.
Once the ATM usage became free, this fee was borne by the banks. This made banks approach RBI through IBA, which is the industry lobby of Indian banks. They had submitted some recommendations to the central bank last month citing the financial burden faced by banks on account of huge number of third party withdrawals and small-ticket withdrawals.
One of them was to impose a withdrawal limit of Rs 10,000 per transaction at the third-party ATM as well as limit such transactions to 5 per month. The RBI after mulling over the suggestions has now agreed to both these recommendations and communicated the same officially to IBA.
Why did this happen
The underlying cause for this was the fact that most banks were losing money in comparison to the value of the transaction. So if a person withdrew just Rs 100, his bank ended up bearing this interchange fee, which worked out to be quite expensive. E.g. ICICI Bank is losing around Rs 4-5 crore (Rs 4-50 million) per month, as most of its customers have opted to use third-party ATMs.
Also, if a customer uses the free ATM facility for his current account, the banks not only end up losing money in the form of interchange fee but also have to contend with low float (balance in the account). This is because current accounts don't have requirement of maintenance of minimum balance and any money deposited here, doesn't earn interest.  Hence, the banks' recommendations to impose limit on the amount withdrawn as well as number of free transactions.
Will free ATM usage fall out?
The recent announcement from RBI curtailing the use of free ATMs to five times a month and a upper limit of Rs 10,000 per ATM withdrawal, the joy of the consumer in availing this service has become shortlived. However, with people working 24x7, but banks not being open during that time, customers will always have a need to use ATMs of other banks.
Also certain banks don't have pan-India presence nor have multiple branches at various points. So customers of these banks will always end up using the ATMs of other banks. Hence, it is impossible that inter-bank ATM usage will see a fall out but will definitely come in handy for emergencies and urgent cash requirements.
RBI did take an innovative step by making ATMs free for all the customers of all the banks. However, as banks started losing money as the value of transactions at third-party ATMs did not justify the interchange fee, a sort of middle ground has been reached to keep both the banks and consumers happy.