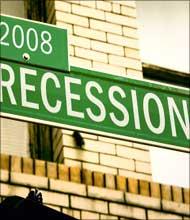 India Inc on Monday saw signs of
turnaround
in the economy with the GDP showing a growth of 6.1 per cent in the first quarter of the fiscal 2009-10.
On the release of GDP data, leading business chambers said the worst was behind the global economy.
"With global recession bottoming out we expect sectors such as trade, hotels, transport, communication and manufacturing to accelerate the pace of growth in the coming months," Ficci said.
It said the growth on sequential basis from 5.8 per cent in the fourth quarter of 2008-09 to 6.1 per cent in first quarter of the current fiscal "is an indication of a turnaround in the economy".
It said the economy was showing improvement despite weak performance of the agriculture sector. "The stimulus measures taken by the government are yielding results on the ground and there is clear case for continuing these for some more time," Ficci president Harsh Pati Singhania said.
He expected the economy to grow by 6.5 per cent in the current financial year.
Assocham said it would not be correct to compare the performance of the economy this fiscal with last year, given the current economic scenario in which "demand creation is still a challenge".
Assocham said the economy would gradually bounce back as sectors like steel and real estate have started picking up.
CII said the timely intervention of the government through fiscal and monetary measures are helping the economy recover from the global crisis.
"The GDP numbers indicate that the economy has bottomed out," Chandrajit Banerjee, director general, CII said. However, it added that the government's borrowing programme has hardened bond yields.