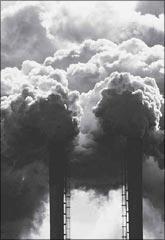 Concerns over climate change have dropped globally, but in India worries over global warming are rising.
Over 54 per cent of the Indian surveyed continue to be 'very concerned' about global warming, a study says. ccording to research by the Nielsen Company and the Oxford University Institute of Climate Change, concern for climate change has declined globally in the past two years with many countries recording double digit fall. But in India worries have increased by one per cent in the said period.
"Global recession and economic woes temporarily knocked the climate change issue off the top line agenda, but as the recession is now beginning to recede, we expect the Copenhagen Summit may push this important issue to the forefront again," the Nielsen Company business insights director Europe Jonathan Banks said.
Giving details the study said Indians are most concerned about air pollution (62 per cent), water pollution and water shortages concerns come next with 61 per cent. With 54 per cent, global warming is third on the list of concerns for Indians.
The findings of this survey come at a time when the Prime Minister of India is participating in the Copenhagen climate change conference.
Moreover, in line with global sentiments in India too majority of consumers believe that the main responsibility for solving climate change should lie with the government.
Around 28 per cent Indians feel that there should be major government-led initiatives for research into scientific and technological solutions like low-emission cars, houses and renewable energy. Besides, 23 per cent Indians said the government should invest in improving public transport systems and there should be incentives for non-polluting behaviour.
The most concerned nations about climate change are Philippines (78 per cent), Indonesia (66 per cent), Thailand and Mexico (62 per cent), the survey said.
The Philippines posted the highest increase in climate change concern in the past two years (14 per cent), followed by Vietnam (9 per cent).
Globally 37 per cent consumers said they were very concerned about climate change. Highest level of concern was expressed in Latin America (57 per cent) and Asia Pacific (42 per cent). North America lagged behind global regions with only a quarter of respondents expressing their concern.
The survey further said 35 out of the 54 countries surveyed recorded a decline in their concern for climate change, led by Poland (23 per cent) and Canada (22 per cent).
Climate change concern also fell by 18 per cent in Portugal and 17 per cent in Taiwan, Spain and Sweden.
"It's not surprising that water and air pollution top consumers' environmental concerns as these are measurable and visible to the population compared with the concept of climate change, which unfortunately many people only take seriously when human lives are endangered through freak weather patterns," said Banks.
© Copyright 2021 PTI. All rights reserved. Republication or redistribution of PTI content, including by framing or similar means, is expressly prohibited without the prior written consent.