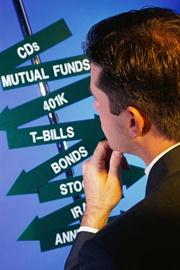 Turmoil in the current economic environment raises several questions in the minds of investors: Should I exit out of equities? Gold has rallied significantly; maybe that is where I should invest in. With interest rates likely to go up, should I invest in bonds? These and many more questions like these have troubled the retail investor.
What should he do? They say simple things in life are the most difficult to practice and it is the same. Predicting economic parameters like interest rates, inflation or GDP growth among other factors is never easy. Like life, these are also unpredictable.  However, one can definitely have an investment plan such that one can have a good night sleep in the present without having to worry about the future.
Diversify: The first and most important rule is to diversify your investments across asset class. One must not put all the eggs in one basket. A certain percentage should be invested in a variety of assets, such as large-cap, mid-cap and small-cap stocks. Put a percentage in real estate, gold and fixed instruments. And yes do hold some part in cash too. Though the risk arising from economic factors would remain, the unsystematic risk, which is unique to the asset class, would be reduced.
The principle of diversification involves investing across options so that losses in some will offset gains in others, thereby reducing the variability of return. It is a risk management technique. The rationale behind this technique is to yield higher returns and pose a lower risk than any individual investment found within the portfolio.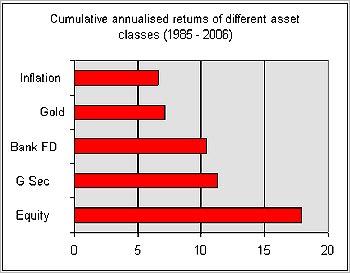 Source: UTI Mutual Fund presentation
As seen from the chart above, had one kept the money only in gold, the person would have missed the rally in the equities.
Dollar Cost Average: In other words, this is known as systematic investment plan. This is a very useful tool especially in volatile times. By buying an equal amount each period, one can end up with a cost basis that is close to the average over that period. It is a plan which can offer a disciplined, systematic approach to investing that could be the cornerstone of your long-term planning. As seen from the table, SIP investing does benefit in the long run.
A's investment through SIP

B's investment in lump sum

Month

NAV*

Amount

Unit

Amount

Units

Jan-07

9.345

1,000

107.0091

12,000

1,284.11

Feb-07

9.399

1,000

106.3943

Mar-07

8.123

1,000

123.1072

Apr-07

8.750

1,000

114.2857

May-07

8.012

1,000

124.8128

Jun-07

8.925

1,000

112.0448

Jul-07

9.102

1,000

109.866

Aug-07

8.310

1,000

120.3369

Sep-07

7.568

1,000

132.1353

Oct-07

6.462

1,000

154.7509

Nov-07

6.931

1,000

144.2793

Dec-07

7.600

1,000

131.5789

Total

12,000

1,480.601

12,000

1,284.11
NAV as on the 10th of every month. These are assumed NAV in a volatile market of a hypothetical scheme
Source: UTI Mutual Fund presentation
Discipline: Once you develop an investment plan you have got to stick to it. Asset classes, especially equities can move wildly based on political, global and other news. Having discipline while investing will benefit. It also means staying away from a potential investment when the risk / reward are unfavorable. It is the deciding factor between the investor's success or failure to reach his or her goals.
The last d is - don't panic- Investing is not a difficult process. By following the above rules, one can definitely retire rich. Keeping one's goal and needs in mind, one should carefully select the investment plan and have the discipline. Let fear and greed not rule one's mind.