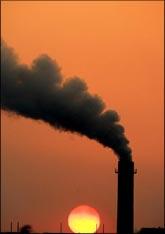 Admitting that India and other emerging economies' stand was considerably different from the 43 countries in the Alliance of Small Island States, Environment Minister Jairam Ramesh said that India had no major differences with the United States.
He noted that India was not having a major standoff with the United States but the real differences existed between the China and the developed world as well as the between European Union and the United States.
"India is not in the firing line," Ramesh told journalists in Copenhagen late on Sunday.
However, in the past few days US chief negotiator Todd Stern has told journalists that that it would not suffice for developing countries to just post their domestic action taken to combat climate change for information and that powerful economies would need to demonstrate a greater commitment.
"There is no way to solve this problem by giving the major developing economies a pass," he said.
Stern noted that developing countries -- including Brazil, India, South Korea and China -- had made "significant" proposals but these would have to be "wrapped up" in an international agreement and not captured in "press release domestically".
Despite these glaring divergences, Ramesh told journalists that India and the US were not having problems, but the Americans had deeper contentions with China since it was the largest producer of greenhouse gases.
Instead, Ramesh stated that India as well as other emerging developing nations had divergent views with the Small Island States but India was pushing hard to play a "facilitative" role and bring all parts of the G77 together including the African group and AOSIS.
The admitted that India and other emerging economies' stand was different from the 43 countries in the AOSIS.
"We have to deal with them because they have a different point of view. I have been at pains to stress we do not want confrontation we want compromise and consensus," he said.
Ramesh noted that India and China were in "very close coordination" with several meetings between himself and Chinese Minister Xie Zhenhua in the past two days.
"We meet very frequently. We are coordinating our position. India's constructive role has come in for considerable mention and place. We're not being confrontation. We are trying to get all parties together," Ramesh said indicating he met his counterparts from Brazil and South Africa.
Ramesh said based on his discussions so far it appeared that if Copenhagen failed to deliver "what NGOs are calling FAB (Fair, Ambitious and Binding)" it would not be because of "India or the developing countries but because of differences between the developed world".
"There are differences between the EU and America," he said, noting that the European and Japanese don't want to take on legal commitments unless the Americans also commit more but the US has made it clear that they will not join into any instrument that evenly remotely resembles the Kyoto Protocol.
"The basics issue is credibility of the commitments that the developed world has not been able to fulfill and they cannot hold India and China as excuses for non fulfillment," he added, pointing out that the developed countries had not kept their commitments to peak by 2020.
BASIC-African draft ready
A common Africa-BASIC draft has been prepared though it will not be unveiled as yet, Environment Minister Jairam Ramesh has said.
The text of a potential treaty prepared by the BASIC countries (Brazil, South Africa, India and China) has been merged with another text prepared by the Africa group within the G77.
Ramesh said that all countries had decided to work off the two texts prepared by the Chairs of the Working Group on Long Term Cooperative Action under the Bali Action Plan and the Working Group of the Kyoto Protocol-- both of whom tabled drafts of texts a few days ago.
"We have merged the Africa draft and the BASIC draft. We now have a common Africa-Basic draft but we are not unveiling it now," Ramesh said in response to a question by PTI.
"As of now all countries have agreed that we will negotiate on the basis of these two legitimate drafts prepared by chairs," he said.
Countries introduced a text prepared in Beijing at the end of November.
However, several countries including the Least Developed Countries (LDCs), Alliance of Small Island States and several African countries stated that the text was geared towards the interest of the emerging economies and did not cater to their particular vulnerabilities especially on adaptation.
The AOSIS and African countries were especially concerned about the limit to temperature rise listed as 2 degree celsius and they prefer 1.5 or lower.
The Intergovernmental Panel on Climate Change (IPCC) has evidence that with a 2 degree cap, some Small Islands are in the danger of being submerged under rising sea levels while others will face catastrophic consequences.
 In the integrated draft, Ramesh said both 1.5 degree celcius and 2 were bracketed (subject to negotiation).
 "Its not whether it is 1.5 or 2 that is critical, what is critical is the equitable access to atmospheric space. If that principle is accepted you can have 1.5, you can have 1.8 you can have 2," he said.
The minister noted that India's position that a global goal should be preceded by an equitable formula for sharing of atmospheric space was strongly supported by France.
"France has strongly supported India's proposal that a global goal should be based on equitable access for atmospheric space measured in terms of per capita convergence," he said.
However, Ramesh noted that currently both groups had decided to hold back the drafts and continue working on the UN texts. "These are the only two documents that have legitimacy that have been prepared by the two chairs," he said.
The minister warned that if any of the other groups or nations sprang a surprise draft like the Danish text then the G77 countries would put out this text.
"If there is any attempt to derail these two drafts we will unveil that draft. If Australia or Denmark tries to come up with another googly of a draft we will then get into the BASIC-Africa text," he said.
Delegates from 192 countries have been for a week attempting to hammer out a climate change treaty before the heads of state/government from over a 100 countries including Prime Minister Manmohan Singh, US President Barack Obama, Chinese Premier Wen Jiabao begin to arrive this week.