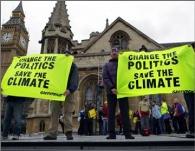 Serious differences have emerged between India and Australia over the direction of talks at the climate summit in Copenhagen with Environment Minister Jairam Ramesh lashing out at Canberra, dubbing it as an "ayatollah" for its one-track approach.
"Australia is sort of the ayatollah of the single track," Environment Minister Jairam Ramesh was quoted as saying by the 'Sydney Morning Herald'.
Developing countries are arguing that Australia and its allies are trying to push the outcome of talks away from the Kyoto Protocol, and Ramesh called it "a recipe for disaster".
Ramesh, who cancelled a meeting with Australia's Climate Change Minister Penny Wong aimed at breaking the deadlock on Tuesday, told the daily that he had not "pulled out... as he was unfortunately too busy" to hold the meet.
"Penny Wong remains a good friend of mine, a very valued colleague," he said. Wong said: "You will have to ask him," when asked why the meeting was cancelled.
Ramesh also said he would not be cooperating in a session with her to try to break the deadlock even after a request from the Danish head of the UN conference Connie Hedegaard.
Wong said it was "regrettable that there are some who are willing to fight about process rather than negotiate about substance when what is asked of us requires so much more".
With Australia and its allies coming under intense attack over claims that they want to "kill" the Kyoto Protocol, Wong attempted to offer lukewarm support for it.
"I wanted to make very clear there is a lot in the Kyoto Protocol which is good... We need to do what is in the Kyoto Protocol and we need to go further" Wong said.
Meanwhile, an ABC report said that the chief negotiator for 'G77 and China' also accused Australian Premier Kevin Rudd of misleading his people of his position on climate change.
Lumumba Di-Aping, who represents China and G77 group said he had high expectations of Rudd, but throughout negotiations Australia has not matched its actions with its rhetoric.
"The message Kevin Rudd is giving to his people, his citizens, is a fabrication, it's fiction," he said. "All that Australia has done so far is simply not good enough. It's puzzling in the sense that here is a Prime Minister who actually won the elections because of his commitment to climate change," he added.
Di-Aping said Rudd was the only Prime Minister who came and clearly said "we have to do something, we have to join Kyoto protocol and all the rest".
"And within a very short period of time he changes his mind, changes his position, he starts acting as if he has been converted into climate change scepticism".
Di-Aping accused Rudd of trying to gain a strategic economic advantage by siding with the United States and the European Union at Copenhagen.
"Australia is committed to killing Kyoto," he said. Rudd told a news conference in Copenhagen that his aim at the climate change talks is to get the best possible agreement in Australia's national interest.