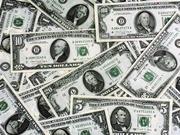 Foreign direct investment in the country surged by 60 per cent to $1.74 billion (around Rs 8,000 crore) in November, an official said on Thursday.
The inflows were $1.08 billion foreign direct investment in the same month last year.
However, during the April-November period, the inflows declined marginally to $19.38 billion (around Rs 90,000 crore) from $19.79 billion (around Rs 92,000 crore) a year ago due to impact of global credit squeeze felt in the earlier months of the fiscal, the official told PTI.