Over 15 senior executives of the PricewaterhouseCoopers, whose Bangalore-based arm audited accounts of scam-hit Satyam Computer Services, have quit and would be joining PwC's global rival KPMG.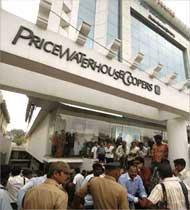 "Dinesh Kanbar, executive director, PwC, has resigned, along with some tax executive directors", said PwC in a statement in New Delhi on Monday.
Kanbar's resignation comes within a month of Ramesh Rajan stepping down as chairman of PwC India. Rajan was replaced by Gautam Banerjee, former executive chairman of PwC Singapore.
PwC has been in the news after two auditors belonging to Bangalore-based PriceWaterhouse were arrested by the Hyderabad police following the disclosure of the Rs 10,000-crore (Rs 100 billion) Satyam accounting fraud.
Although the PwC did not disclose the number of senior tax experts who have quit the firm, sources said more than 15 senior professionals have resigned and would be joining the KPMG, another global auditing and consultancy firm.
PwC has about 1,200 tax professionals and 55 executive directors servicing domestic and international companies.