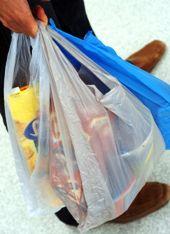 Adopting the post July 2005 deluge mantra of 'Say No To Plastic Bags', Municipal Corporation of Greater Mumbai, is in full swing against the use of plastic bags in the metropolis.
"We will take up major awareness campaign, strengthen our staff, appeal to schools and colleges not to use plastic bags, hold meetings with respective associations and zone wise officers to spread the message and workshops among others," deputy municipal commissioner (special) Rajendra Bhosale told PTI.
Plastic bags that clogged drains and led to massive flooding on July 26, 2005, led the government to implement ban on polythene bags of below 50 micron thickness.
As per the rules, the minimum thickness of plastic carry bags must be 50 microns and their size must be not less than 8x12 inches, said Bhosale.
"We will take up this campaign during Marathon as well. We have prepared caps which will be given to school students with a message -- 'Say No To Plastic Bags'. We have cotton bags with same messages," Bhosale said.
MCGM will soon kick off awareness campaign advocating the ban and urge Mumbaikars to pledge their support for it.
"Penalties will be collected and punishments will be given to offenders. Second time offenders will have to pay a fine of Rs 10,000 and then for repeat offenders imprisonment of three months. A fine of Rs 25,000 will also be imposed," Bhosale said.
MCGM said that the environmental degradation and choking of drains was largely due to an inefficient waste disposal system.
Following the orders of Shiv Sena chief Bal Thackeray, newly elected Mayor Shraddha Jadav has asked the civic body to ensure a complete ban on plastic bags.
"We will take strict and stringent action against all those who do not comply with the norms. Earlier, post the deluge, a ban was imposed on plastic bags, which was not followed by all. But we ensure this time it is done," Jadav said.
The proposal will soon be tabled before the group leaders meeting on January 2 in the MCGM.
"The ban that was imposed earlier had failed to curb the use of plastic bags effectively. Because of which today also the plastic bags continue to choke drainage and sewer lines," Jadhav said.
"We have support of people as they are also aware about the hazards of using plastic bags. The hawkers, shopkeepers and other dealers need to understand about it," Jadav said.
Mayor's office, along with MCGM, has been promoting the use of paper and cloth bags as an environment-friendly alternative.
"The cost at which a plastic bag is purchased by a dealer is from Rs 3 to 4.50 to 5 and a cost of cloth bag is some where around Rs 5 to 7, which is more or less same," Bhosale said.
According to the civic body, a complete ban on plastic bags already exists in Himachal Pradesh, Sikkim and Kerala. Last week, Pune became the first city in Maharashtra to prohibit the use of plastic bags.