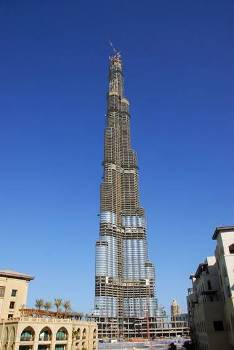 The world's tallest building will be thrown open to the public on December 2, to coincide with UAE's National Day.
The opening date of the building has been a closely guarded secret for years -- however, a senior architect working on the project has confirmed that December 2 has been set aside for the opening, the Arabian Business reported.
The Armani Hotel, which is part of the building, will welcome its first guests on the same day.
Ceremonies to mark the launch are also being planned for December 2, the report said but it was not yet clear whether other parts of the tower will be fully accessible.
"This will be a huge achievement and a big celebration for the UAE and for Emaar, particularly as it's UAE National Day. It will be the first time the public can enter the building," said the architect.
The final piece of glass cladding to complete the exterior of Burj Dubai, was now ready and would be installed within weeks, developer Emaar Properties said. Emaar, however, has maintained it will not comment on the opening date.
Spanning six metres in length, the panel is the last of the 24,348 pieces of cladding fitted to the super-structure.
Emaar has been tight-lipped over the final height of the tower, which is believed to have topped 818 metres earlier this year. More than 1,000 specially commissioned pieces of art will adorn the interiors of Burj Dubai.
Pride of the place in the iconic structure's residential lobby will be held by an artwork featuring 196 bronze and brass alloy cymbals - representing the 196 countries of the world - suspended on titanium rods anchored at the bottom of two pools.
Visitors to the lobby will be able to hear a distinct musical sound as the cymbals, which are plated with 18-carat gold, are struck by dripping water intended to mimic the sound of water falling on leaves.
Image: Burj Dubai