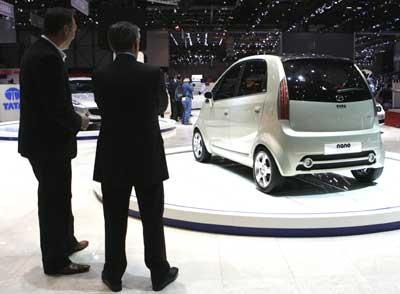 Tata Motors, on Tuesday, launched the Nano Europa at the 79th Geneva Motor show before Nano's formal launch on March 23 in India.
The Nano Europa will have a slightly longer wheelbase of 2.28 metres and will be powered by a 3-cylinder all-aluminum gasoline engine with 5-speed automatic transmission and electric power steering.
It would adhere to all international safety standards and regulations, the company said in a statement.
The car has been provided with advanced restraint systems, anti-lock braking system, electronic stability program, with high fuel efficiency and low CO2 emission.
Ratan Tata, chairman of Tata Motors, said, "In India, the Nano will be launched on March 23, and the cars will be on display at company dealerships from the first week of April.
"The Nano has also generated wide interest in developed countries, since its unveiling in Delhi and its presentation here last year. We are delighted to present the Nano Europa for future launch in such markets."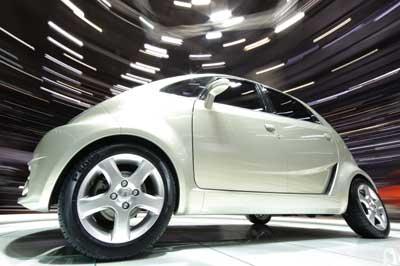 While stating that he hopes to launch the Nano Europa in 2010-11, Tata refused to divulge the cost of the European version of the car, saying a lot of factors needed to be looked at before the price could be decided.
"But it'll hold to its image of being one of the cheapest cars in the market," he confirmed.
The company also displayed Tata Prima, a concept luxury sedan, and Tata Indica Vista EV, an electric vehicle.
Tata Nano Europa incorporates exterior compactness with interior comfort and seeks to provide motorists pleasure and utility of personal mobility combined with affordability and environment-friendliness.
Image (top): Nano Europa displayed on the first media day of the 79th Geneva Car Show at the Palexpo in Geneva. | Photograph: Denis Balibouse/Reuters
Image (bottom): A long time exposure picture shows the Tata Nano during the first media day of the 79th Geneva Car Show at the Palexpo in Geneva. Picture taken with a fish-eye lens. | Photograph: Valentin Flauraud/Reuters