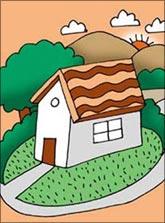 So you have finally decided to buy your own house? With this single decision a chain of other decisions follow, ranging from choosing the property, choosing a home loan offer to deciding the furniture for the new house.
But there are many pitfalls that can turn this smooth process into a bumpy one. Here are some of those pitfalls that you should be aware of and avoid.
Look deep in your wallet before deciding the property
So you have chosen and set your heart on a house that is perfect! But have you given some deep thought to whether your wallet will be able to handle your dream? Going for a house that you can't afford to pay for is like eating more food than you can digest. You end up with indigestion.
Look closely at your lifestyle and financial capabilities.
Plan for an unfortunate eventuality like loss of job or illnesses and ensure that your wallet will be able to take the pinch for a few months at least.
Look at your other debt liabilities before going in for the home loan.
Evaluate market conditions
Understand the real estate market and evaluate if the property prices are stable and not likely to fall further.
Do your research on home loan interest rates, see if they are likely to decrease or increase in future depending on the existing market conditions, you may not want to lose out on a good deal because you jumped in too early.
Debt liabilities
Having high credit card outstanding and a number of other loans, not only brings the eligibility for higher loan amount down, it also increases the burden of paying all of these debts off.
If your home loan EMI]is around 10 per cent to 15 per cent bracket of your income, it would be a  smart deal. It would be even better if your total debt liability is within the 10-15 per cent range, but normally, that is not the case, so try to pay off all your high interest/long tenure debts sooner.
Increase the down payment
When you go for home loan, you have to pay around 10 per cent to 15 per cent of the project cost and around 85 per cent to 90 per cent is funded by the bank or financial institution. If you have more than the required amount for 'down payment' then pay more, so that your required debt is reduced significantly.
Always prepay
Also, when you have any loan try not to extend the loan to its complete tenure. As and when you have excess cash, try to prepay.
For example, you could prepay from your yearly bonuses or from your savings from the salary hikes that are expected to happen periodically. Prepaying can lower the tenure and help you save on interest.
However, check with your bank from when you can start prepaying, as banks do not allow prepayment during the first six months or the first year of the loan period. Even when they allow prepayment after this time frame, there still would be a prepayment penalty attached.
Just make sure the interest saved does not exceed the prepayment fee that you will need to pay the bank. As long as that is taken care of, prepayment is the best way to close a loan early and save significantly on interest.
The family bank
It is not essential to opt for the same bank that your brother took his home loan from. Well, brotherly love aside it is better to do your own searching in terms of the deals offered by different banks.
Moreover, your brother's offer for the same loan amount and tenure could be different from what is offered to you, as the offers and interest rates vary according to the credit profile of the borrower.
The offer that your brother got is according to his credit profile. So, it is always possible that you might be able to get a better deal from some other bank.
The processing fee
If you have nothing in writing from the bank, it is possible that you might lose the processing fee that you pay to bank in case the loan does not get approved.
So, either you get something in writing from the bank or factor in all this money for these kinds of losses.
The fine print
Most of us just close our eyes and sign on the dotted line. What we forget to read are the clauses that are in fine print in the loan agreement. You need to understand the significance and impact of these various clauses before you sign the agreement.
Some these clauses to watch out for include the force majeure clause and Reset Clause on Fixed Rates. Instead of ending up in a financial hellhole it is better to take some time out to read through the loan agreement carefully and be prepared for what's in store, before taking the big leap.