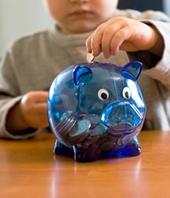 Some 25 years back when most of us were children and greeted grandparents or other elder relatives during festive occasions, birthdays and get togethers, they would generously hand out Rs 5 or Rs 10. And all this money was promptly given up to parents.
Money was not to be handled by children. Mom and Dad took care of all the needs as children and we would ask if we needed anything more than the basic necessities. Children stayed out of money matters and talks like 'this is my money' and 'this is yours' were taboo and immediately discouraged.
Then came college, jobs and marriage with the responsibilities associated with it. Those days people newly married were expected to have children. People newly married are now expected to buy a new house and a new car.
Most of us suddenly find ourselves handling large sums of money and spending much more than these large sums of money. We have to take important decisions of spending smartly, taking loans, tax saving etc. And of course there are those huge credit card bills. Pay check to pay check - neck to neck it is like walking a tight rope.
With salary levels like this we should be living life king size happily. King size - yes, but happiness seems to be elusive.
Did we miss learning something at school and college? In any case, most things learnt in school and colleges were religiously unlearnt at work - so that did not matter. But why did we not pick it up from our parents?
At the end of it, this whole thing about keeping children out of money matters was probably a wrong idea. Children have to be introduced to money and how it works. Children should be allowed to take money decisions, make mistakes and learn from them when we can still hold their hands. It is like a learning to swim in a small pool before venturing into the sea.
To begin with, we should tell our children what we do for a living, how we earn our money and how money does not come when we do not go to work.
Take children along to the ATM. Let them pay cash and count the change when you go buying groceries.
When on a shopping trip young children can be given the choice of picking up a toy or a dress within a budget.
When they are slightly older get them on to an allowance deal and pre-decide what all regular expenses they would take care with this allowance.
It is ok to give children financial rewards for doing some tasks because that is the way the world works. Teach them the value and dignity of labour and let them own up to earning money.
When they have a big purchase to be made you can loan out a small sum of money and deduct EMIs from their monthly allowance to teach them the concept of repaying loans.
Introduce children to the concept of banking, saving and investing and the need for setting aside money for the rainy day.
Teach them about sharing money and the importance of giving back for social causes. That would make them aware of the world and appreciate their family and situation.
"Financial literacy is like economic self defence, those who learn the most will be the safest" says Joline Godfrey - author "Raising financially fit kids". Your efforts could go a long way in creating a financially safe next generation.
Another important fallout of this exercise - raising children could now become less expensive!