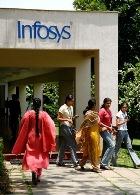 Infosys, the country's second largest information technology exporter, plans to sharpen its focus on specific segments for select regions as part of its strategy for expansion and servicing of new markets.
For instance, it is looking at the Nordic regions to offer services to utilities and banking clients and Australia for telecom and BFSI (banking, financial services and insurance). For India, Infosys has trained its sights on the government business.
"Our global delivery model has helped us expand in Europe, especially continental Europe, from where business is coming. We are building local capabilities like we did in Brazil and Mexico, besides hiring available talent there," said Ashok Vemuri, head of Infosys' banking and capital markets vertical and of Strategic Global Sourcing.
The company recently opened its second delivery centre in Mexico. Sectorally, BFSI and retail are showing resurgence and continental Europe is showing traction in energy and utilities. "The new markets of Australia and Latin America are showing signs of revival, but we need to see how sustainable it is. Same is the case with new verticals like media, communications, logistics and transportation," added Vemuri.
Manufacturing, which took the brunt of the slowdown, will take some time to recover, but Infosys expects BFSI - which is a little more "agile" - to be nimbler in its ability to turn around. It is getting end to end and process management deals from its BFSI clients.
More, it expects its clients' budgets to come on time this year, though they may be flat or slightly higher than that of last year. The company opened six new accounts in the last quarter, in which it reported an income of Rs 5,585 crore (Rs 55.85 billion).
"The budgetary cycle has not begun as yet but the second quarter showed growth after the lacklustre performance of the previous ones," said Vemuri.