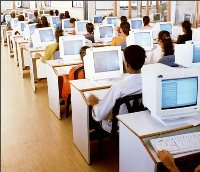 While big Indian enterprises are still cautious about their information technology spends, mid-sized companies appear to be more upbeat. Close to 80 per cent of mid-sized firms surveyed by Gartner, an IT research and advisory firm, said they would increase their IT budgets or keep them unchanged for 2010.
The survey, however, cautions that since mid-sized businesses are likely to drive growth in the professional segment, vendors will need to direct extra resources to maximise the potential.
"Mid-sized businesses are in a growth phase. After trying 12 months, they seem to have turned the corner and are now willing to invest to increase competitiveness and ensure customer satisfaction. The survey indicates that the intent to either increase or maintain spending in the face of the crisis has not been disturbed," says Diptarup Chakraborti, principal research analyst, Gartner.
This, he said, was in contrast to a more conservative response to a survey done among enterprises in February 2009, proving that mid-sized businesses, which accounted for more than half the professional segment of the PC business, would be the growth driver for the segment.
The survey revealed that mid-sized firms invested heavily in 2007 and 2008 in IT in response to the changing needs of customers. But just as they were riding the IT curve, the slowdown impacted their plans. However, they are also quick to come out of the slowdown and are now looking to get back to business.
Mid-size businesses also have a different take on choosing hardware vendors. They are relatively loyal to their existing vendors. "Although they will negotiate hard on future purchases, unlike their global counterparts, they do aggressively pursue a strategy of changing vendors or threatening to do so to save costs," said the survey.
When it came to services, Indian mid-sized firms are comfortable with software as a service, its understanding and use, and 45 per cent of all organisations have implemented some SaaS projects.
Around 15 per cent of all respondents said they had plans to implement some SaaS in their projects in 2009 and 2010. However, the same cannot be said of alternative delivery models, such as hosted virtual desktop.
Although there is a rising interest in HVDs, these lag behind SaaS in implementation. Around 58 per cent respondents rated HVD as the most important strategy to save costs.
The awareness level about cloud computing is low. Among mid-sized businesses, 67 per cent had either not heard of the concept or had no clue what it meant.
This can be attributed to the fact that most vendors of cloud computing projects and services are concentrating on marketing to large enterprises.