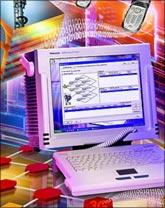 Network quality remains the top priority for consumers when choosing an operator, even as most telecom operators are busy lowering call rates to outdo rivals, according to research firm Nielsen.
"Network quality is the most important consideration for Indians when it comes to selecting a service provider. But the fact is Indians don't really know which service provider has the best network in their circle, all they know or to be more precise are told by the service providers is how much lower their prices are when compared to the competition," it said in a statement.
The Nielsen Consumer Experience Mobile Test Program said there was a disconnect between what was important to consumers compared to the focus of service providers.
"It shows that even though network quality is a more important criterion than price, price war between service providers have become customer acquisition tool," it added.
The report said it was because of this lack of information and communication that consumers do not know who the market leaders are in network quality in their circle and are compelled to make choices based on their perception of supremacy.
The report indicates that of 18 circles tested on Reliability metric, a clear 'Leader' exists in just four circles, while in 10 circles, there is a tie for first place for network reliability.
In the remaining four circles, there is neither a clear leader, nor a tie for first position.
While Reliance Communications was the leader in Andhra Pradesh, Madhya Pradesh, Tamil Nadu and Pondicherry circles, Tata Indicom was the leader in UP and Uttaranchal circle.
"As Indian consumers consider network performance as a major selection and retention criterion, there is a huge opportunity for network leaders to educate consumers about the superiority of their network performance to gain subscriber base. This can be a huge marketing differentiator in an industry that is reeling under hyper competition," The Nielsen Company executive director (telecom practice) Shankari Panchapakesan said.
Nielsen expects that India, similar to global trends, will see the emergence of a 'Leader' based on superiority in network performance.
"New service providers will find it difficult to gain market share in the crowded wireless market. They will face challenges in terms of high subscriber acquisition costs, lower ARPU customers and lack of adequate spectrum quality. Getting superior network quality and communicating the same to the consumers will prove helpful," Panchapakesan said.
An earlier Nielsen Mobile Consumer Insights survey indicated that network satisfaction is driving overall satisfaction with services, offered by operators has increased from 50 per cent in the latter half of 2008 to 54 per cent in the first half of 2009.