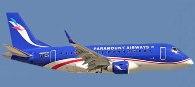 The all-business-class carrier Paramount Airways is planning to increase its fleet fourfold by 2011 to 20 air planes at a time when major airlines are grounding aircraft and adopting low-cost model.
The Chennai-based carrier is also set to launch on-board mobile service for passengers within two months, subject to approval from regulatory authorities.
"We will have 20 aircraft by the middle of 2011, up from the five at present. We are looking at Embraer and turboprop aircraft for scaling up our fleet," Paramount Airways managing director M Thiagarajan told PTI.
Embraer and turboprops are smaller jets with a seating capacity of up to 75 passengers, suitable for landing on shorter runways.
On the carrier's plan to become the first carrier to provide on-board mobile phone facility in the country, he said, "we hope to launch it in two months," adding the airline is seeking regulatory approvals for this even during take-off and landing, a service hitherto not offered by any carrier in the country.
On the fleet expansion programme, Thiagarajan said turboprop aircraft would be required by the carrier as it is looking at tapping market for tourist destinations like Pondicherry and Agatti (Lakshadweep).