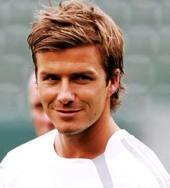 The effects of Dubai's spiralling credit crisis has not spared even the coffers of Hollywood with A-listers like Brad Pitt and David Beckham among those affected.
The two have seen the value of property they bought in the Gulf plummet as Dubai struggles under a mountain of debt, reported Daily Mail online.
Things have now gone from bad to worse after Nakheel, the island's developer, and its parent company Dubai World made a request on Thursday to suspend debt repayments.
Star footballers Michael Owen, Joe Cole, Andy Cole, David James and Kieron Dyer are all thought to have bought homes on the manmade island.
The Dubai government has been forced to call in accountants Deloitte to advise on a financial restructuring, as its economy buckles under a debt of $80 billion, said the report.
This could cause a major crisis of confidence in the region at the time when the global economic recovery remains fragile.
Image: David Beckham