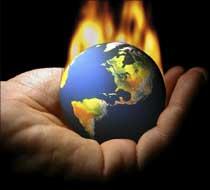 Ahead of the Copenhagen Summit on climate change, India on Friday said the meeting should make all efforts to come out with a "legally binding substantive" outcome on tackling the pressing global challenge and disapproved of any attempt to give up and defer a decision as is being mulled by some developed countries.
India is now under pressure with the United States, China and Brazil agreeing to conditional emission-cuts. The ball is now in India's court as some of the conditions that the US and China have put forth also mention that other emerging markets too need to cut their emission rates. The veiled reference to India is not lost on New Delhi.
Meanwhile, Prime Minister's Special Envoy on Climate Change Shyam Saran said in Port of Spain that even if no consensus is reached at Copenhagen next month, efforts should continue with an aim of concluding within time-bound manner the negotiations as mandated by the UN Framework Convention on Climate Change.
The issue of climate change is going to dominate the Commonwealth Heads of Government Meeting which is being attended by Prime Minister Manmohan Singh.
The 53-nation grouping of former British colonies, which include developed, developing and under-developed countries, is expected to come out with a communique pressing for early decision on tackling the problem of climate change.
The CHOGM, also to be attended by UN Secretary General Ban Ki Moon and French President Nicolas Sarkozy, can send out a message for the Copenhagen meet, with an objective of influencing the negotiators to reach a decision.
Talking about the urgency, Saran said countries like Maldives even faced the threat of extinction if temperature witnesses an increase. He expected the Least Developed Countries of Commonwealth to make a stronger pitch for urgent action.
China and US agree to cut emission
In a bid to fight global warming, China, the world's biggest emitter of carbon dioxide, the main greenhouse gas, announced on Wednesday that it will take steps voluntarily to cut emissions by 40 to 45 per cent per unit of GDP by 2020.
"Appropriate handling of the climate change issue is of vital interest to China's social and economic development and people's benefits, as well as the interests of all the people in the world and the world's long-term development," the State Council, the Chinese cabinet said in a statement here.
China will reduce the intensity of carbon dioxide emissions per unit of Gross Domestic Product in 2020 by 40 to 45 per cent compared with the level of 2005, the statement said, joining the US in revealing the stance it will take at next month's high-stakes climate summit in Copenhagen.
This is "a voluntary action" taken by the Chinese government "based on our own national conditions" and "is a major contribution to the global effort in tackling climate change," the statement said.
China's decision came hours after the White House said President Barack Obama will attend the conference to personally commit the US to a goal of a 17 per cent emissions cut from 2005 levels by 2020.
Premier Wen Jiabao will attend the 15th Conference of the Parties of the United Nations Framework Convention on Climate Change (UNFCCC) from December 7 to 18 in Copenhagen.
World leaders happy with US, China move 
French President Nicolas Sarkozy, too, lauded the new US and Chinese proposals on combating global warming as "extremely encouraging", and said, "The latest statements by Barack Obama and China's leaders are extremely encouraging in making Copenhagen a success.
The new proposals by the world's two biggest carbon emitters for curbing pollution may have breathed life into UN climate talks, but fall short of what scientists say is needed to avert serious global warming.
UN Chief Ban Ki-moon welcomed the announcement that Obama will be attending the conference.
"As more and more heads of State and government confirm their attendance, momentum is building for a successful conclusion to this crucial world gathering," UN spokesperson said.
On his trip to Washington in October, Ban said, "No country is more important than the United States in resolving this climate change issue".
"Failure to seal a deal could result in increased human suffering, higher economic losses, opportunities squandered in terms of productivity, global competitiveness and political stability," an US spokesperson said on the sidelines of CHOGM meet.
Additional inputs: Agencies