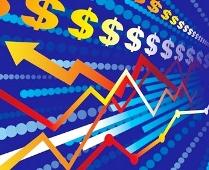 The stock markets on Monday shrugged off the Dubai hiccups and ended the days almost two per cent higher, and analysts believe the momentum is likely to continue as the street will take positive cues from the robust economic growth, as well as global rally.
The economy grew by a robust 7.9 per cent in the September quarter, propelled by increased government spending and surge in the manufacturing sector.
"The GDP figures are higher compared to market expectations. If the third quarter figures continue to hold above seven per cent, then overseas investors may increase their asset allocation in stocks here," Taurus Mutual Fund managing director RK Gupta said.
Analysts feel buoyed by good growth across all vital sectors, domestic markets sustained momentum throughout the day despite weak European cues. The European stocks were down by one per cent in early trade.
"The domestic trigger is strong enough to hold the market steady against weak European cues. Going ahead, investors should watch the movement in the US markets for a direction," Unicon Financial chief executive Gajendra Nagpal said.
The benchmark Sensex on Monday closed up 294.21 points or 1.77 per cent at 16,926.22. During the intra-day trade the index had scaled up to 17,027, a rise of 395 points. "A positive development in the US markets on Monday could catapult our markets further. However, a negative trend might not bring in much of a fall," Nagpal said.
During the September quarter the manufacturing output grew by 9.2 per cent as consumers increased purchases of cars and other goods.
"The manufacturing sector growth is likely to increase in the December quarter. If the farm output increases in the same tune, then the country can clock a decent growth. Fresh money can come into the stock markets around February," Gupta added.
Further, agriculture output was up by 0.9 per cent during the quarter, while the services sector grew by 12.7 per cent during the reporting quarter.
For the first half, the economy grew by seven per cent against 7.8 per cent a year ago, prompting the finance minister to say that the economy would log in over 7 per cent growth this fiscal.
"The GDP figures reinforces the fact that the stimulus provided by the government both on the monetary front and the fiscal stimulus are bearing results. We can expect an upgradation in the overall GDP growth numbers for FY10," Angel Broking VP for research Sarabjit Kour Nangra said.
Echoing similar views Nagpal noted that close to seven per cent growth in FY10 would be a good figure for the market.