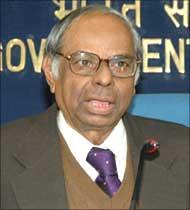 The Prime Minister's economic panel on Wednesday said the government needs to draw a programme to rein in the fiscal deficit of over six per cent which is not sustainable.
"The FRBM target is difficult to achieve and all that is required is for the goverment to draw a programme by which over a period of time they will go back to the old FRBM target...it will probably take more than 3 years," Prime Minister's Economic Advisory Council chairman C Rangarajan told reporters here.
The Fiscal Responsibility and Budget Management (FRBM) Act 2003 mandated the government to reduce fiscal deficit by 0.3 per cent each year to reduce it to three per cent by 2008-09.
However, stimulus measures, comprising a cut in taxes and increase in plan expenditure, to perk up the slowing down economy, widened fiscal deficit to 6.2 per cent last year.
This fiscal, the deficit is projected to further balloon to 6.8 per cent, as the government continues the tax cuts and increase the overall expenditure to over Rs 10 lakh crore.
"I certainly believe that the fiscal deficit of the order that we have seen last year and current year is not something that can be sustained so some efforts should be made to bring it down," Rangarajan said.
In its FRBM papers, the government has talked about bringing down fiscal deficit to 5.5 per cent in the next fiscal and further to four per cent during 2011-12. To fund the fiscal deficit during 2009-10, the government has announced borrowing Rs 4 lakh crore.