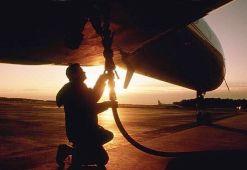 For the third straight fortnight in a row, the state-owned oil firms slashed jet fuel prices by 2.4 per cent on Thursday on strengthening of rupee against dollar.
The aviation turbine fuel or ATF price in Delhi has been cut by Rs 896 per kilolitre (kl) to Rs 36,188 per kl, with effect from Thursday midnight, an official of the Indian Oil Corporation, the nation's largest fuel retailer, said.
IOC along with its sister PSUs, Bharat Petroleum Corporation and Hindustan Petroleum Corporation, had from September 16 slashed jet fuel rates by as much as 3.2 per cent and followed it up with a 2.1 per cent cut in rates from October 1 to Rs 37,084.50 per kl.
Jet fuel will cost Rs 37,300 per kl in Mumbai, home to the nation's busiest airport, from Rs 38,246.60.
The reduced rates will help cash-strapped airlines cut fuel cost, which constitutes roughly 40 per cent of their operational cost.
No comments could be immediately obtained from any of the airlines on the possible impact of the cut on fares.
ATF in Kolkata has been cut by Rs 988 per kl to Rs 44,248 while in Chennai it will come down from Rs 40,956.89 per kl to Rs 39,966.
The three firms had in three installments raised jet fuel price by 7.6 per cent since mid-July.
The rupee has been rising against the dollar in the last few days and it rose to a 13-month high of 46 level on Thursday.
Jet fuel price in Delhi on July 16 was Rs 36,388.18 per kl and was raised first to Rs 36,922.67 per kl on August 1 and then by 4.5 per cent to Rs 38,585.24 per kl. Last month it was marginally raised by 1.4 per cent to Rs 39,118 per kl.
The three oil firms revise jet fuel prices on the first and the 16th day of every month based on the average global oil price in the previous fortnight.